Dwarf Yaupon Holly
("Schillings Holly")

Ilex vomitoria 'Schillings'
Dwarf yaupon holly - also called Schillings Holly - is the slow-growing, hardy shrub many gardeners love to trim into little balls.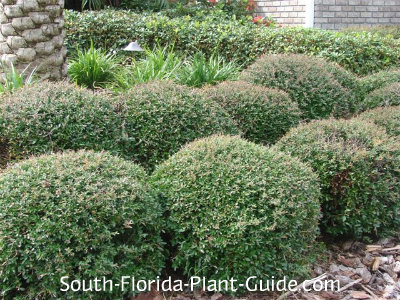 These fine-leafed hollies are a huge favorite for South Florida because they're extremely easy-care and provide a distinctly formal look to the landscape.
A favorite for foundations and along walkways, "Schillings" grows very slowly and rarely needs trimmed.
This plant can actually grow larger than most people realize...to 5 feet or more. But because it takes its sweet time getting there, this popular shrub works for many years as a small, easily-maintained plant.

A holly shrub that produces no berries, dwarf yaupon also has no spines on the leaves. It produces tiny, non-showy flowers in spring.

Attractive for its gray-green leaves with a hint of red in the new growth, this plant can be left untrimmed to grow into a naturally mounded shape in a more casual setting.

Plant specs
This is a slow-growing shrub you can keep about 2 to 2-1/2 feet tall for many years. Once it matures, expect to maintain it at around 3 feet.

Drought-tolerant once established, this plant is also cold hardy and does well anywhere in South Florida.
It's happiest in full to part sun, though it will grow in partial shade.
There is a full-size yaupon holly - usually grown as a tree - which is covered on the Holly Trees page under Accent Trees.
Plant care
Add top soil (or organic peat moss) and composted cow manure to the hole when you plant.

You'll only need to trim once in a while to keep the plant nicely shaped.
Dwarf yaupon has a naturally rounded shape.
If you grow it as a manicured hedge, avoid a boxy, straight-up cut on the sides. A rounder shape will let sunlight in to keep the plant full to the bottom, but vertical sides prevent light from getting through resulting in bare stems at the base.

Water regularly but give the area enough time to dry out between waterings.

Fertilize 3 times a year - spring, summer and fall - with a good granular fertilizer.

Plant spacing
Place these shrubs 2-1/2 to 3 feet apart. Come away from the house 2-1/2 to 3 feet.

If you plant a row of dwarf yaupon holly shrubs along a walk, place them 3 feet (or more) in from the pavement's edge. They can spread out wide eventually.

These make excellent container shrubs and can be trained as bonsai plants. They're also great plants for a mobile home planter.

---
Landscape uses for dwarf yaupon holly

foundation planting
low hedge
fronting medium height hedge plants
under low windows
along a walk or drive
grouped as ground cover shrubs
surrounding a palm or other tall specimen
lining a porch, deck, patio or carport
around a poolcage or lanai
along a fence
in a container or planter
---
Other shrubs you might like: Indian Hawthorne, Green Island Ficus