Introducing my newest ebooks!
The Best of the Grow-zines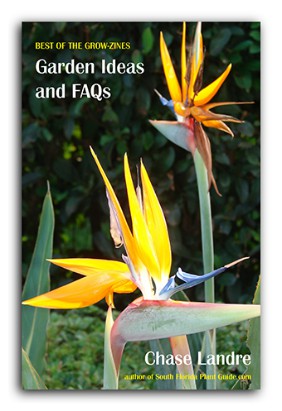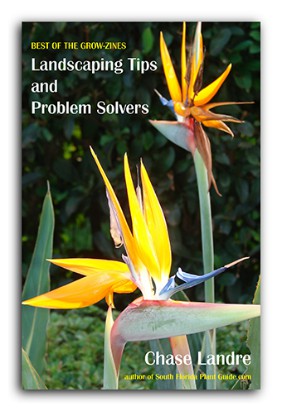 Get garden inspirations and solutions!


by Chase Landre,
author of
South-Florida-Plant-Guide.com


Articles, pix and tips - all culled from the first years of our monthly newsletter - The Grow-zine!

If you're new to the Grow-zines, catch up on what you've missed!

We don't archive the Grow-zines, but now you can read all the best stuff from past issues...a compilation you won't find anywhere else!
---
---
What's in each book? TAKE A PEEK!

---
---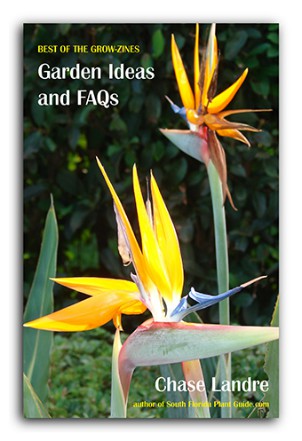 BEST OF THE GROW-ZINES

Garden Ideas & FAQs

GARDEN IDEAS - Inspirations for your landscape, for starting new gardens or refurbishing existing beds.

FAQs - Questions from visitors to South-Florida-Plant-Guide.com, answered in the Grow-zines.

---
Garden Ideas
Create an Edible Landscape
Attract Hummingbirds to your Garden
Add Tropical Privacy to your Landscape

Tuck some Florida Wildflowers into your Garden
...and MORE!

---
FAQs

How to Propagate Plants
Can I Cut Back my Areca Palms?
Watering with Reclaimed Water
How Fast will a Moderate Grower Grow?
...and MORE!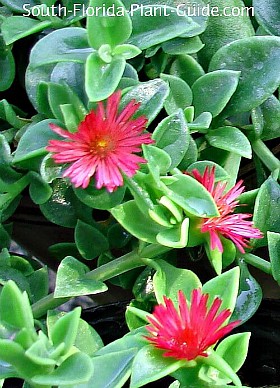 I read through your new book twice and let me just say that it is a fantastic, jam-packed guide filled with great information, helpful tips and artistic ideas…bravo, Chase! -- Jessica B.

"Great content, easy to read, answers important questions, helpful insights." --Jim P. (professional landscaper)

"Lots of helpful facts and exciting ideas! I would've spent hours and hours online to find out all this information - and then wonder if it's reliable! I feel I can trust what I learn from you." --Jeff S.

---
---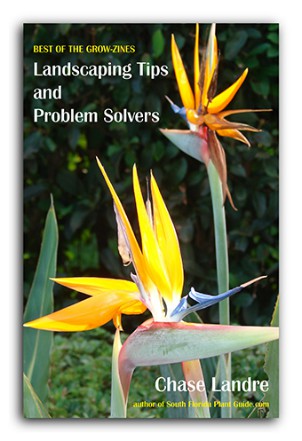 BEST OF THE GROW-ZINES

Landscaping Tips &
Problem Solvers

LANDSCAPING TIPS - Design techniques & ideas from past Grow-zines.

PROBLEM SOLVERS - Ways to make your plants prettier & healthier and solutions to make you happier with your landscaping.

Landscaping Tips
Designing with Crotons - Do's & Don'ts
Landscaping with House Color - what colors should you use to landscape?
Add "Plant Architecture" to your Garden Beds

Design for a View from Indoors
...and MORE!

---
Problem Solvers
What to do when one palm trunk dies?
After a bad storm - what to do to save your plants

How to camouflage leggy plants
Plants can add safety to your home

...and MORE!

---
---
"I want to let you know how much I enjoyed reading your ebook.  Learning which colors would compliment the paint on the exterior of the house was an immense help. This book was very informative. Thank you so much for such a valuable tool for those of us in Florida!" --Lori D. 

"Great book...packed with a wealth of information...short, concise, easy to read & absorb. This book will help make your yard look like it has been professionally landscaped...a must have in your garden library." --Jeanne W. (professional landscaper)

---
Add to your "library" of knowledge - download today!

$4.99 each -




or $9.97 for both


Buy both ebooks & get
What's That Plant FREE!

---
---
**PLEASE NOTE: This ebook is in pdf format and may not display perfectly on all devices.
It is easy to purchase and download. Your order will be placed through E-Junkie, a secure authorized billing agent that works in conjunction with PayPal.
Even if you don't have a PayPal account, PayPal will accept your credit card. They will validate your credit card, and upon successful payment you will receive an email from E-junkie with a link/place to click to download your ebook.