Snowbird Gardening -
The Ebook
by Chase Landre, author of
South-Florida-Plant-Guide.com
The same unique printed book written for South Florida Snowbirds...
...now in ebook form!
If you live anywhere in Florida south of Tampa to Melbourne for part of the year, Congratulations!
You're a South Florida Snowbird, and this book's for you!

Here are real answers to the unique challenges of gardening for South Florida Snowbirds!

This is the only book on the market about gardening for South Florida Snowbirds!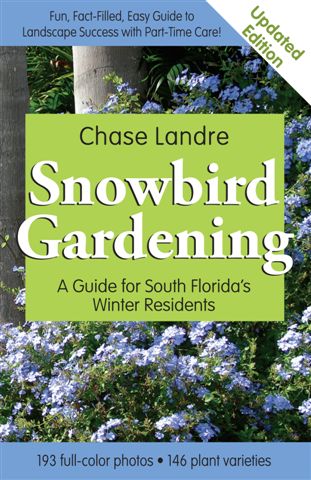 Great book... well written and great photography! You can be proud of your work. L.D.
Learn about...
South Florida's easiest-to-grow palms, trees and flowers - full color photos and complete care guide!
How to grow your favorite citrus
How to maintain a healthy lawn
How to make your Florida landscape low maintenance AND beautiful year-round!
Answers for...

Questions you're afraid to ask
Common mistakes
Myths and truths
10 keys to success
Snowbird Gardening - the book that started it all...

After being injured by an auto-immune disease, I lost full use of my hands. As a result, I had to find a job that I could do more with talking than with any precision work with my hands...
...and I found the perfect one - in a plant nursery!
One problem, though.

I'd always been a gardener up North but, though I'd lived in Florida for a number of years, I didn't know diddly about South Florida plants!
The nursery staff took me under their collective wing and I learned fast - enough that these wonderful plants became a passion of mine.
As I helped customers, I noticed one thing:
Snowbirds kept asking me the same questions. Over and over. Again and again.

And then it dawned on me - Snowbirds need their own "manual" about South Florida.
That's when Snowbird Gardening was born!

The book has been a great success, and I regularly receive praise from Snowbirds for answering their questions and showing them which plants work best for ease of care, winter good looks, and hardy natures.
Then I had another brainstorm!
Why not expand the Snowbird Gardening idea and build a website for ALL of South Florida's population - Snowbirds, year-round residents who moved here from somewhere else, even native Floridians?
And then came South-Florida-Plant-Guide.com.

Save when you buy Snowbird Gardening - the ebook - now just $14.97!
The printed version - NOW SOLD OUT - was $19.95 plus sales tax and shipping - you'll save with the ebook! Same book, just in digital format.
One price - fast, easy download, get the ebook in minutes!

---
---
**PLEASE NOTE: This ebook is in pdf format and may not display perfectly on all devices. Not available on Kindle.

It is easy to purchase and download. Your order will be placed through E-Junkie, a secure authorized billing agent that works in conjunction with PayPal.
Even if you don't have a PayPal account, PayPal will accept your credit card. They will validate your credit card, and upon successful payment you will receive an email from E-junkie with a link/place to click to download your ebook.
---