About Chase Landre
Plants are miraculous. Gardeners are not.

Most of us learn by trial and - too often! - error...myself included. But I've learned those lessons well...and I'm here to pass them on to you!

"There is no gardening without humility. Nature is constantly sending even its oldest scholars to the bottom of the class for some egregious blunder."
-Alfred Austin, British poet laureate

Chase Landre at Gizella Kopsick Palm Arboretum, St. Petersburg, FL
So who is Chase Landre and why should I listen to her?

Good question...I have no horticulture or botany degree, no master gardener's certification.

What I do have is experience. Real. Honest. Hands-on.

I've successfully grown many of the plants on this website.
And the ones I haven't grown myself, I've found people whom I trust - some experts in their own right - who have actually grown these plants.
Some are plant nursery owners. Some are also growers. Some are landscapers. And a few are people just like you and me with a lot of true growing experience under their belts.

What I can do for you

Save you from making mistakes in choosing, planting, and nurturing palms, trees, shrubs and flowers in your landscape
Give you the benefit of my hands-on experience of what things to watch out for and what things to expect from your plants
Help you find the right plant for the right place - the key to success
Inspire you to fall in love with plants the way I have

Why is South Florida Plant Guide a good source of info?
IFAS, University of Florida's Institute of Food and Agricultural Services has many articles about our subtropical plants. I've often used their articles in researching certain particulars about a plant.

But there wasn't an easy reference guide (with pictures!), aimed toward homeowners like me - who just need the real scoop, the basics, to learn to grow a plant.

And so - in 2011, I created South-Florida-Plant-Guide.com.

Even the pros agree...

Chase Landre's South Florida Plant Guide is the best go-to source for reliable info!
"We have found South-Florida-Plant-Guide.com to be very helpful in picking the right plant for the right place.
"We also ask our customers to visit the site to help educate themselves on their new plants that are to be planted.
"And we look forward to the monthly Grow-zine's 'What To Do in the Garden' for each month. It's nice to have other thoughts from another professional.
"Thank you for your work on the site and also for keeping it updated."
Tom Younkman
Younkman's Bamboo Gardens, Sarasota, FL

---
"Chase and I worked together at my family owned nursery for years. Her quest for knowledge and love of plants made her a tremendous asset. Always asking questions, researching, and making notes.
"Her website, in my opinion, is the definitive site for practical plant knowledge for this area. Her "layman" terms, beautiful pictures, and great insight make this a wonderful tool for either a beginner or experienced gardener. I highly recommend it."
Don Jones, Jr.
Don Jones Nursery & Garden Center, Bradenton, FL

---
"South Florida Plant Guide is our go to website for research, everything you need to know about tropical plants.
"We pass this website on to many of our customers when we are designing and installing new plants. It is so informative on so many levels. Our snowbird customers have all said it was an awesome website. Highly recommend."
Jeanne M Weber and Nancy Ruggier
Gulf Coast Master Gardeners, Bradenton, FL

---
"For years, South Florida Plant Guide has been the most helpful go-to website for our company and clients.  This site delivers the most relevant and useful plant information here on the west coast of Florida.  We love to refer our clients there because we know how meticulous Chase's data collection has been and have watched this site mature into the amazing wealth of knowledge it has become.  The creator is a gardener herself and knows what information is important to convey.  We recommend South Florida Plant Guide highly!"
Jeff at Jeff Gilchrist Landscaping, Inc.
Bradenton, FL
When I was a child growing up in Pennsylvania, my father came home one day with 1,000 pachysandra plants. "Who wants to help me plant these?" he called out. My mother and sister ran for cover. That left me...and from that day on I was as crazy about gardening as my dad was.

I love plants. Always have. Love to dig in the dirt, potter about with growing things, and - most of all - love to learn more.

When I moved to Florida, everything was so different.

Sandy soil. Endless summer heat. Heavy rains. New-to-me exotic plants.

I asked the same questions you ask. And I was lucky enough to have asked the right people.

It all started from a bad thing...
I've worked in the nursery industry since 2002. I'd suffered an injury to my hands through an auto-immune attack and had limited use of them. But I managed to talk my way into a job at a wonderful plant nursery. And from there, my learning began...and I couldn't get enough of it.

As I soaked up knowledge and experience I became an accidental "expert."
Soon customers caught my excitement about each plant and I became the go-to person. I wrote gardening books - including Snowbird Gardening, A Guide for South Florida's Winter Residents.

As I learned about plants, the natural progression of things led me to landscape design - how plants work together.
At my nursery job I've  designed garden areas or whole landscapes - often on the spot! - for people who brought me pictures, sketches or just a description of an area to be landscaped.
And I've done freelance design and occasionally work as a consultant for other designers.

But writing about plants is something I love to do. As well as freelance articles - many on gardening - for my town's newspaper, the Bradenton Herald, I also wrote a popular gardening column, Suncoast Gardening, for several years.

Now those columns have been turned into ebooks...and I've written several more ebooks to help you accomplish the things you want from your landscape.

All the plant photographs for this website, my newspaper columns, books and ebooks, are mostly a result of me wandering local neighborhoods, knocking on doors for permission, with my trusty Sony (now retired) and Canon cameras.

I've given talks to local garden clubs and community groups, as well as writing info pages for nursery personnel to help them (especially new employees) advise customers with best plant suggestions and info they can use to answer customer questions.

But my favorite thing is to work at a plant nursery. I recently retired from working part-time (but still visit often!) at Burnett's Nursery, a big beautiful nursery in Bradenton - a way to enjoy being with all the plants I love. (Note: Burnett's is closing, unfortunately...a sign of the times, I guess.)

The result of all this? South-Florida-Plant-Guide.com. Hope it's just what you need!

SUBSCRIBE TO OUR 'GROW-ZINE'
(It's FREE!)

Our monthly almanac & newsletter South Florida Monthly Grow-zine will come straight to you every month - What to do in the garden this month - Special plant news - PLUS what's new at South Florida Plant Guide.
Sign up below for next month's issue - and receive your FREE COPY of my article on "White Gardens."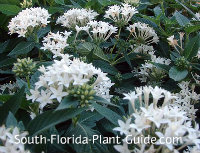 ---