Medium Height Shrubs

Medium-height shrubs you can keep 4 to 6 feet are prized as hedges or accents. Many of our most beautiful garden shrubs fall into this size category.
As you'll see in the plant listing at the bottom of this page, this plant grouping is loaded with classic favorites like hibiscus, gardenia and viburnum, as well as more exotic varieties like orange bird-of-paradise and angel's trumpet.
Some medium-height shrubs grow a bit more slowly than others, so they can start out life in your yard as a small shrub (though they'll want to grow bigger eventually).
Some can be kept trimmed a bit shorter than 4 feet or grown as a taller shrub...but 4 to 6 feet is an ideal height for this group of plants.
The Plant Pages profile each one in detail so you can choose the right mid-size shrubs for your home landscape.
South Florida shrubs of about 4 to 6 feet - whether flowering bushes or all-green ones - are the most useful staple of any landscape design.
They're often planted not just for their beauty but also to serve a purpose, such as providing privacy, at a height you can easily maintain.
Landscape uses for medium height shrubs

hedge bushes
single entryway accent
privacy around the pool area or cage
accent plant for the corner of the house
garden bed anchor
stand-alone yard specimen
backdrop for smaller shrubs
as a surround or centerpiece planting for tall palm trees
to add height in an island bed
in front of a fence
flanking each side at the end of a walkway or drive
in pairs on each side of a gate or free-standing arbor
lining the side of the garage
along the edge of a patio to create an enclosure
to hide the A/C unit, trash can area, those hideous front yard pipes, or other "unmentionables"
Hedges are obviously one of the most common uses of medium height shrubs, and in this size range you have many choices of green, flowering, or colored foliage plants.
Of course taller shrubs can be used as hedges but ones you can trim to 4 to 6 feet give you a reachable trimming height for a more manicured look.
Left to grow in a more natural form, they can create a more friendly hedge that doesn't seem so much like a wall.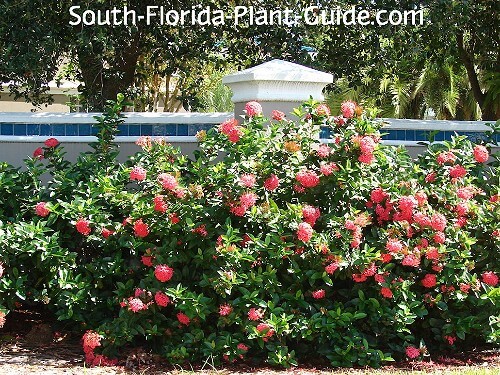 If you're planting to camouflage something, choose a green shrub rather than a colorful one - color draws the eye right to it and that's what you want to avoid.
For more tips on landscaping with shrubs, see the Landscape Design Primer at Small Shrubs.
SUBSCRIBE TO OUR 'GROW-ZINE'
(It's FREE!)

Our monthly almanac & newsletter South Florida Monthly Grow-zine will come straight to you every month - What to do in the garden this month - Special plant news - PLUS what's new at South Florida Plant Guide.
Sign up below for next month's issue - and receive your FREE COPY of my article on "White Gardens."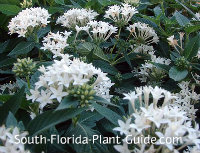 ---