Large Shrubs

Large shrubs of over 6 feet are a versatile group of plants with many different looks - a tropical accent, a beautiful flowering plant, or dense green foliage for privacy.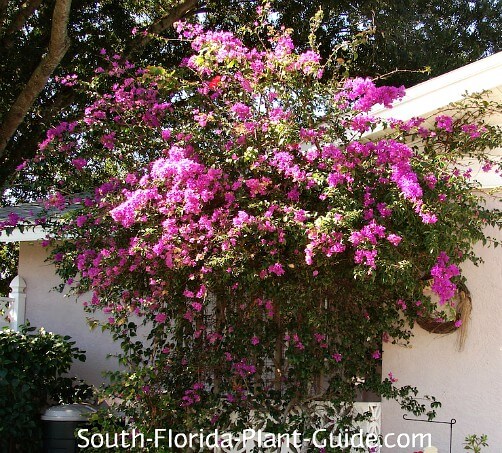 Best used in more expansive areas or with larger or taller homes, South Florida's bigger plants have many different looks and uses.
They can be used individually as the star of the show or grouped as full, lush shrubs for hedges.
Some of the tall shrubs in this section are also available in tree form, and they're covered in the Plant Pages within the Small Flowering Trees and Accent Trees sections.
The Plant Pages will link each shrub to its tree-form page so you can see both possibilities.
Landscape uses for larger shrubs

tall hedge plants
backdrop for medium-height shrubs
large accent plant in the garden
blocking a neighboring spotlight or street light
to create privacy from second story neighbors
grouped as a windbreak or noise reduction planting
to fill in a large garden space or a corner of the yard
in a row along the back property line
between tall palms or pine trees
as privacy for a patio "enclosure"
as a focal point in the center of a circular drive
single specimen plant in the yard
to draw attention to an architectural element of the house
lined up to create a visual pathway to a focal point
on each side of the entrance to the driveway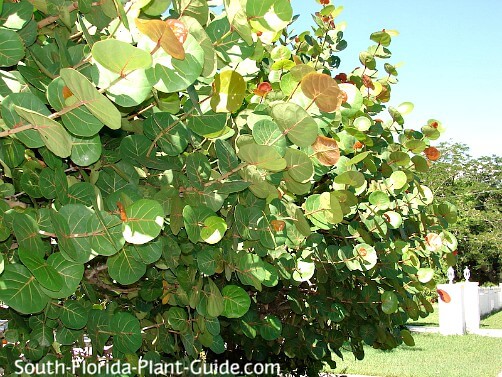 These plants can get very big, such as the sea grape pictured above. Many in this section grow wide as well as tall, and as hedge shrubs may go well beyond a comfortable trimming height.
A yearly hard pruning can keep things under control. See the Plant Trimming page in the Gardening How-To section for pruning and trimming info.
And each of the individual Plant Pages will give you trimming specifics and suggestions.

Just be prepared for the ultimate mature size of the plant you choose, and pick a spot for it that allows enough space for growth.
Large shrubs in this section include:
---
SUBSCRIBE TO OUR 'GROW-ZINE'
(It's FREE!)

Our monthly almanac & newsletter South Florida Monthly Grow-zine will come straight to you every month - What to do in the garden this month - Special plant news - PLUS what's new at South Florida Plant Guide.
Sign up below for next month's issue - and receive your FREE COPY of my article on "White Gardens."