Wild Coffee

Psychotria nervosa
Wild coffee, one of the lesser known native Florida plants, is a lovely, graceful shrub that produces berries similar to coffee beans.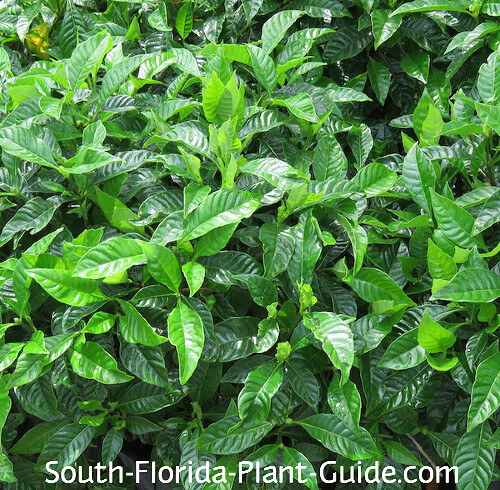 The shrub itself is a beauty - with glossy deep green leaves marked with deep grooves, giving the foliage a beautiful texture.
Though the "beans" contain no caffeine, they can be roasted and consumed as a coffee-like beverage...
...not exactly what some people look for when creating edible landscapes, but a fun and unique addition just the same.

Though some sources describe wild coffee as cold tolerant, these South Florida tropical plants can be cold sensitive and need a sheltered location.

They're a wonderful landscape asset as tall hedge shrubs for shade. You can also put them to use as a privacy screen or accent.
The berries appear in summer after small white spring flowers and ripen to red.
The flowers attract butterflies and the berries attract birds, making the plant a great addition to a wildlife garden.

Wild coffee plants grow in sun or shade but seem to do best in partial to full shade.

There is a dwarf cultivar (pictured below), for those who prefer a much smaller plant. The dwarf can be kept 3 feet or less and stays more compact, with more flowers and berries than the full-size plant.

Plant specs
This fast-growing evergreen shrub can be kept 5 to 8 feet tall.

It tends to stay smaller in sun, larger in shade with a richer deep green color and a bit more open growth habit.

Zone 10 is best for this plant. It really hates the cold so place in a sheltered location and protect from cold snaps - especially in cooler areas of Zone 10.
Wild coffee is moderately salt-tolerant.

Plant care
Although this shrub is a native, it will benefit from adding top soil or organic peat humus to the hole when you plant. You can also add in composted cow manure to enrich the soil around the rootball of the plant.

Trim lightly anytime to shape, and do a hard pruning if necessary for size in spring - late March or early April.

Water on a regular basis but don't keep the plant overly wet. Shadier locations tend to stay moist longer so check to make sure water is adequate but not overdone.

Fertilize 3 times a year - in spring, summer, and autumn - with a quality granular fertilizer.

Plant spacing
If planting in a row, place the shrubs 3 to 4 feet apart. Come out from the house about 4 feet.

Along a fence, bring the plant out about 3 feet.

This shrub will work in a large container.

---
Landscape uses for wild coffee
hedge
privacy screen
architectural accent
backdrop for smaller plants
along a fence
anchor plant for a wildlife garden
lining a deck or patio
accent for a mixed bed
container plant for porch or patio

---
Other plants you might like: Strawberry Guava, False Aralia
---