Peace Lily

Spathiphyllum spp.
Up North it's just another houseplant - but in South Florida, peace lily is an outstanding, everblooming garden plant for shady spots.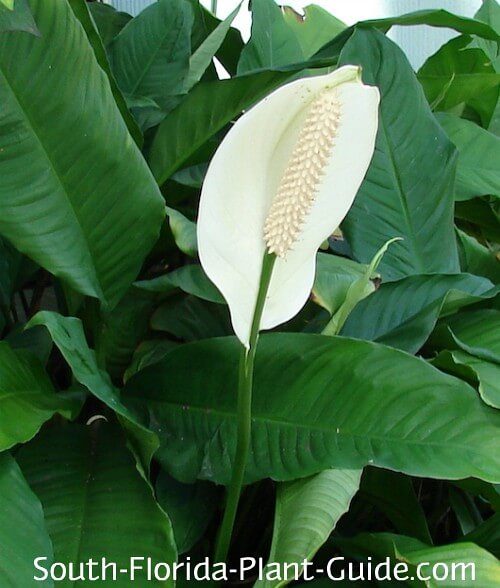 One of the many reasons to appreciate living in our sultry subtropical climate...
...we have the luxury of planting our houseplants in the ground and watch them thrive more than they ever did indoors.

This plant - commonly seen in northern homes, offices and shopping malls - comes into its own in a garden bed.
It forms a lush mound usually no more than 2 or 3 feet tall.
Find just the right spot and don't over-baby it and the peace lily will reward you with snow white flowers nearly every day of the year.

These are shade plants that like bright full shade...or a mixture of a little morning or late day sun and no more than dappled sunlight in the afternoon.
You'll soon know if your placement is correct - too much sun and the leaves will yellow and turn brown on the tips.

There are several varieties available but all have a very similar look.

This plant is not a true lily. Lilies are toxic when ingested by pets and humans - the peace lily is only mildly so.
Plant specs
Most varieties stay nicely small - between 2 and 3 feet high, with a spread of about 3 feet.

A moderate grower, this plant loves bright shade and a well-drained spot.

It does best in the warm temperatures of Zone 10, though of course you can use it in a container in Zone 9B to bring indoors during winter's cold.

Keep it out of strong wind areas so the foliage doesn't shred or burn.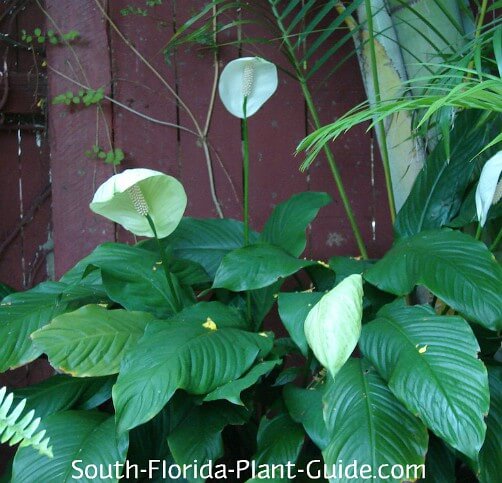 Plant care
Add top soil or organic peat moss to the hole when you plant. You can also add in composted cow manure to enrich the soil around the root ball.

This plant needs little trimming other than to remove dead flower stems and/or discolored leaves now and then.

The edges of the large leaves can brown from too much or too little water (or too frequent fertilization) - just cut the stem back and new green growth will soon fill in.
Water on a regular basis but don't keep the area overly wet.

Fertilize twice a year - in spring and autumn - with a quality granular fertilizer. This plant doesn't need too much food.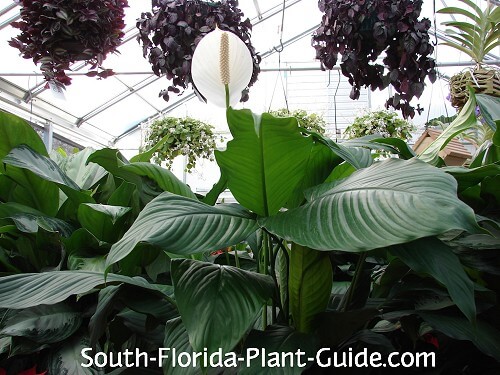 Plant spacing
Place these plants 2-1/2 to 3 feet apart to allow for good air circulation and future growth.

Come out from the house about 2 feet and in from walks and drives 2-1/2 to 3 feet.

Obviously this makes an excellent container plant. Even in a pot, it will look more beautiful outdoors from warmth and humidity.
---
Landscape uses for peace lily
under trees
lining a walk or garden path
mixed bed accent
surrounding a fountain
pool cage planter (shady area)
container plant for shaded porch, patio, deck or lanai
---
Other plants you might like: Ground Orchid, Crinum Lily

---