Dracaenas, Lilies & Other Tropical Accents

Dracaenas, lilies and other tropical accents of South Florida are unusual plants with glorious flowers or tropical foliage - or both.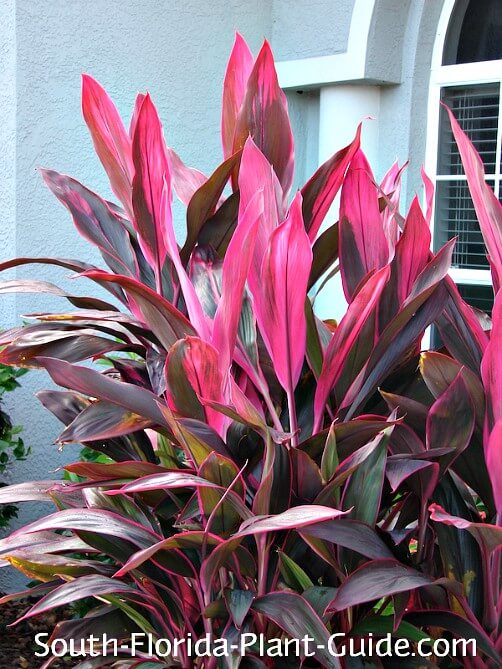 This section includes a collection of exotic plants to highlight your gardens.
Even though many of them can give a garden a tropical effect, the plants here have form, color and texture differences that make each one a special favorite in Florida landscape design.
Fabulous foliage

The many varieties of dracaena and cordyline such as the popular Ti plant are favorites for the unusual foliage color of certain ones.
The upright growth habit that allows these plants to fit in narrow spaces makes them valuable since there aren't a lot of plants with this distinction.
Some tropical accent plants, like amaryllis and agapanthus, have strappy leaves, while others are more grass-like (African iris).
Then there are the enormous leaves of elephant ears or the spiky, upright crinum lilies.
We've also included some succulent plants such as agave, many with blue-green or blue-gray foliage.
Breathtaking blooms

Flower shapes range from rounded clusters atop tall stems (agapanthus) to Jack-in-the-Pulpit type blossoms (peace lily).
Eye-catching colors include white, purple, orange and red, and even bright blue-violet (Blue Flag iris).
Size and light selection

Tropical accent plants can be large and bulky, tall and slim, or even small and low-growing like many bromeliads.
You have plenty of options no matter what size area you have to work with.
Many of the plants in this section benefit from afternoon shade, though some can handle all day sun. The east side of the house, where they'll get only morning sunshine, is a great spot for most.
The Plant Pages will give you the ideal light for each variety.
LILY FACTS: Some lilies you may have grown elsewhere don't get enough cold weather here in South Florida.
Daylilies flourish in northern Florida and further north because they get enough freezing weather to satisfy their dormant stage.
There are a few varieties that can be grown in our subtropical climate - and breeders are working on more choices for the future. We don't cover daylilies here because they can be fussy and unreliable landscape plants.

Some lilies need consistent colder weather. Easter lilies, for example, require consistently chilly temperatures (which we rarely have here) to bloom. It's better just to buy them as a potted plant for Easter rather than planting them in your garden.
Landscape uses for dracaenas, lilies and other tropical accents

Placement and design function are as varied as the plants themselves. Depending on variety, they can work as...
garden accents
clustered by a corner of the house or at the entry
in group plantings around trees
border plants (smaller varieties)
single yard specimens (larger varieties)
Dracaenas, lilies and other tropical accents in this section include:
SUBSCRIBE TO OUR 'GROW-ZINE'
(It's FREE!)

Our monthly almanac & newsletter South Florida Monthly Grow-zine will come straight to you every month - What to do in the garden this month - Special plant news - PLUS what's new at South Florida Plant Guide.
Sign up below for next month's issue - and receive your FREE COPY of my article on "White Gardens."