Blueberry Flax Lily
Dianella tasmanica
White striped upright leaves are the trademark of blueberry flax lily, a South Florida favorite for borders and accents.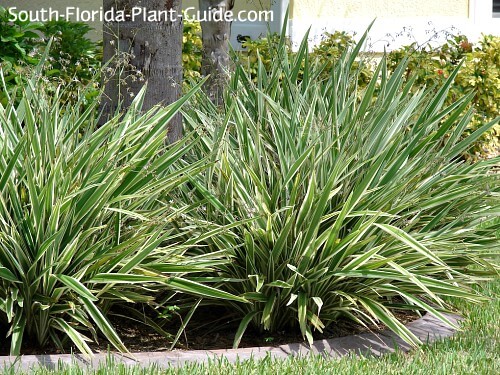 These low growing plants seem to work everywhere and with everything...
...as border plants they highlight shrubs behind them. An alternative to Aztec grass, they make more of an impact with wider leaves and a look somewhere between an ornamental grass and a lily.

As accents they're wonderful texture plants that bring out flower colors and the whiteness of the foliage contrasts nicely with other greenery in a mixed garden bed.
 
This showy plant forms a clump and can be planted in small groups or large "drifts" for more impact.

It produces delicate, light blue flowers almost too tiny to see on and off all year. Pretty at first, the long flower stems eventually turn brown and create a look that's not to everyone's taste...it can appear untidy and almost "weedy." The solution is to cut back the stems regularly for a cleaner look.

Though this plant will grow in nearly any light, the more sun the better for keeping the variegation at its peak.

There are new varieties with other leaf colorings like silvery-green foliage or yellow striping, though they may be harder to find.

Plant specs
Blueberry flax grows about 2 feet tall in full sun to part shade.

It's a moderate grower that does fine anywhere in South Florida.
In Zone 10, however, cold damage is less likely so the plant will look good year round.

Do not plant in an area that stays wet after a hard rain...these plants hate that.
Plant care

Add a combination of top soil (or organic peat moss) and composted cow manure to the hole when you plant.

Trimming isn't needed, other than a spring clean up of leaves affected by cold and occasionally cutting back old flower stems.

This plant is moderately drought-tolerant, so regular watering with time between waterings for the soil to dry out a bit is ideal.

Fertilize 3 times a year - in spring, summer and autumn - with a top quality granular fertilizer.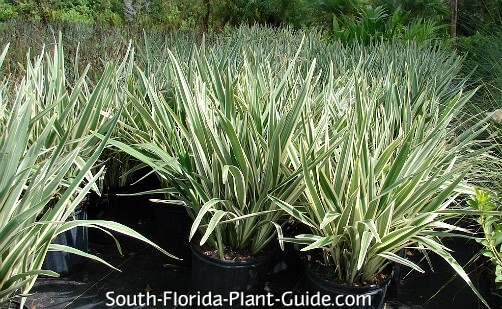 Plant spacing

Plant 2 to 2-1/2 feet apart. Ditto for placing beside or in front of other plants.

Come out from the house 1 to 2 feet, and in from walks and drives about 2 feet.

These plants will do fine in a container.

---
Landscape uses for blueberry flax lily
front of the border
grouped as a groundcover
foundation plant under low windows
accent for a garden bed
surrounding a palm
along a porch
around a mailbox or lamppost
background for very low plants
lining a sidewalk or garden path
around the base of a tree

---
Other plants you might like: Aztec Grass, Dwarf Oyster Plant

---