Dwarf Oyster Plant

Tradescantia spathacea 'Dwarf'
Dwarf oyster plant is a popular groundcover for its low height and unique coloration of green leaves backed with purple.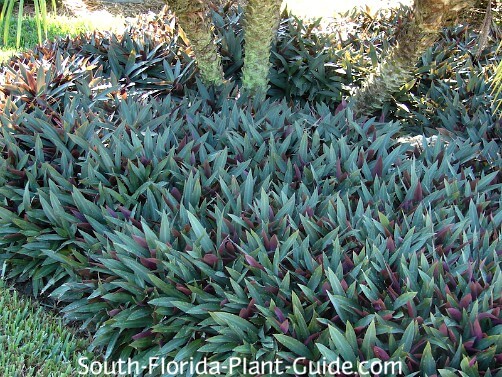 A nice, slow-spreading plant, oyster prefers a part sun to part shade location to look its best.

It's ideal under small palms like the pygmy date palm pictured, or it can be used as border plants for beds.
With its subtly attractive texture and color, dwarf oyster has a neat appearance in a dense bed and works well in formal or casual landscapes.

The dwarf is now the most common oyster plant sold, an improved cultivar of a taller (1 to 2 foot) one which was once often used as a landscape plant but is rarely seen now, partly due to its invasiveness.

There is a showy variegated form called 'Tricolor' with leaves of pink-fuschia, green and white. 

The sap of this plant contains toxins and can cause skin irritations on people and animals. If you have sensitive skin, wear garden gloves when handling.
Plant specs
Dwarf oyster is a slow to moderate grower that grows in any light but does best in part shade to partial sun.

The variegated variety needs partial shade.

These plants only get about 8 inches tall. They do best in Zone 10 and areas of Zone 9B that border Zone 10, especially in a protected spot.

Plant care
If the area is very dry, add top soil to the hole when you plant. Otherwise, no soil amendment is needed.

No trimming is necessary, other than edging to keep it neat and tidy. You may need to thin the bed out every couple of years - removing older plants to let young ones fill in.

Dwarf oyster plant is considered drought-tolerant once it's established. This plant will do best with regular irrigation and enough time between waterings for the soil to go dry.

Be sure the planting area drains well. In a partly shaded area, the soil takes longer to dry out, and these are succulent ground covers that won't take "wet feet."

Fertilize twice a year - in spring and late summer - with a good controlled-release fertilizer.

Plant spacing
You can place these groundcovers 1 to 2 feet apart. Come in from walks and drives a foot or more.

Because the plant stays low in height, it can be planted fairly close to other plants - about 1-1/2 to 2 feet - as long as the larger plants won't eventually block out the little oyster's light.

These plants will work in containers, though if you have sensitive skin handling them (you're more likely to come in contact with a container plant) may be an issue.

Other groundcovers you might like: Dwarf Ruella, Purple Queen

---