Purple Queen
Tradescantia pallida
Just can't get enough purple in your landscape? Then purple queen is the groundcover for you.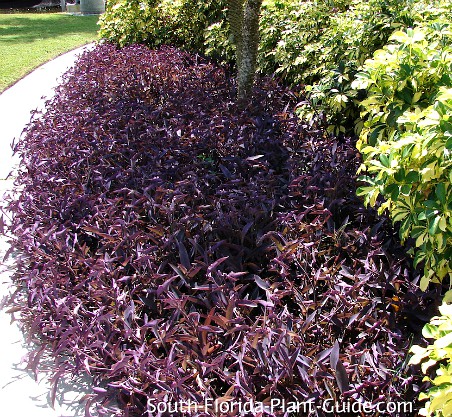 Even the stems of this plant are purple, with velvety purple leaves and small, light lavender flowers.

These plants add striking color to the landscape and look great against any flower or foliage color.

You do have to pay attention to this plant. The meandering habit can cause it to wander into places where it's not wanted.

Better to confine it to a limited area and keep it in bounds (as well as full and lush) with regular edging.

Once mature, the plant can act as a drift of deep purple the height of a small shrub (about a foot and a half), as groundcover surrounding a specimen plant, or as a showy garden accent.

The floppy, delicate stems break very easily when you handle this plant, but no worries - new sprouts will soon take their place. Broken stems root very easily in water or potting soil or by just popping them back in the ground.

Plant specs
Purple queen grows to about 1 to 1-1/2 feet tall.
It will grow in full sun to part shade, keeping its best color in more sun.

These groundcover plants are cold tolerant. They need the warmth of Zone 10 to stay pretty year round, but can be grown in Zone 9B - though they may die back in winter they'll come back just fine when the weather warms up in spring.

The growth rate is moderate...though once the plants are well established, edging may become a regular chore especially in areas where stems spill out over a walk.

Plant care
Add top soil or organic peat moss to the hole when you plant, if the area is very dry.

Trimming is usually needed along the edge of the bed.

Water on a regular basis, but don't keep the area overly wet. Once purple queen is well established it's considered drought-tolerant, but if it gets no irrigation during dry weather the plant can look sparse and unkempt.

Fertilize twice a year - in spring and late summer - with a quality controlled-release fertilizer.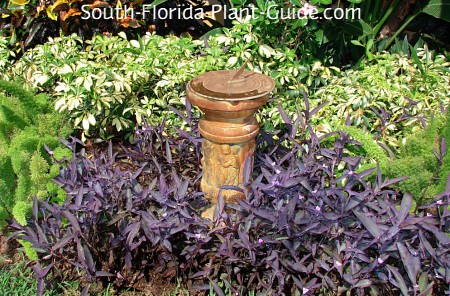 Plant spacing
Place these plants about 2 feet apart, and about 1-1/2 to 2 feet from other plants.

Come in from walks and drives at least 2 feet, more if you can, to keep from having to edge as often.

This groundcover will grow in a container, especially pretty cascading from a hanging basket.
Other groundcovers you might like: Dwarf Oyster Plant, Dwarf Ruella

---