Small Flowering Trees

Small flowering trees bring exciting color to any South Florida yard, large or small. Their smaller height - less than 20 feet tall - means you get to see more of the blooms since they're closer to eye-level.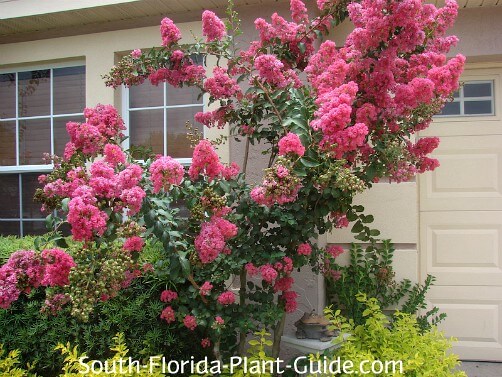 Low growing trees can be used as a full-fledged tree in a small yard, or as more of an accent in larger one.
Smaller Florida flowering trees can include shrubs trained to a single-trunk (called "standards") or those with multiple trunks.
Diminutive flowering trees are a good fit for any size property. They don't take up much space and yet give you an appealing accent that can even determine your color scheme for the rest of the landscape.
Just one of these plants in your yard can be the star of the show, a stunning and brightly colored landscape attraction. It can anchor a bed of low-growing flowers, or set off a butterfly garden with its height and blossoms.
Plan for seasonal color...or bare branches

A few trees are deciduous, like the gorgeous Tuscarora pink crape myrtle pictured above.
But trees that lose their leaves for the winter months will still be surrounded by greenery and other color, since our growing season is basically all year long. And winters here are short-lived.
The majority of our small flowering trees will blossom on and off all year, though we'll see more blooms in warmer months.
Some, like desert cassia and parkinsonia, bloom in spring and fall.
Others have a heavy spring flowering with some blooms then throughout the year.
Ways to use a low height flowering tree in your landscape

as a focal point near the entry
at the corner of the house as a large accent
to anchor a garden bed that needs some height
several grouped close together as a small "stand" of trees on one side of the yard to balance a larger landscape element (such as a large shade tree) on the opposite side
as an "understory" planting around or between tall pines or palms to soften the vertical effect of the tall trunks. Pines and palms let plenty of sunlight shine through and the flowering trees will draw the eye down toward the house and yard.
lining a long driveway
flanking a walkway to create a natural arbor and create a space for a focal point (your front door?) seen under their canopies
Generally, anything that flowers shouldn't be used to "hide" something. Colorful blossoms draw attention to the spot you're trying to camouflage. An all green plant is a better choice.
Many flowering trees of Florida have more benefits than just beautiful color...some attract butterflies and make a perfect specimen to anchor a butterfly garden.
Others like Little Gem magnolia have sweet-scented flowers - a single blossom can send its perfume throughout your home.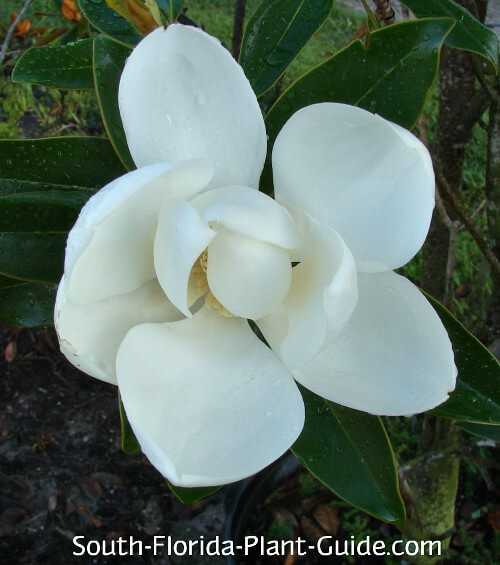 What color flowers should I choose?

Use a color to complement or contrast with other colors in your landscaping. Avoid blooms the same color as your home's paint color so they don't "wash out" against a similar backdrop.
SUBSCRIBE TO OUR 'GROW-ZINE'
(It's FREE!)

Our monthly almanac & newsletter South Florida Monthly Grow-zine will come straight to you every month - What to do in the garden this month - Special plant news - PLUS what's new at South Florida Plant Guide.
Sign up below for next month's issue - and receive your FREE COPY of my article on "White Gardens."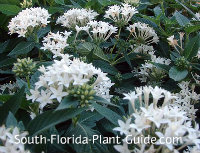 ---