Dwarf Poinciana Tree
Caesalpinia pulcherrima
No room for a big royal poinciana tree? Consider the dwarf poinciana, with fern-like foliage topped with beautiful, showstopping flowers.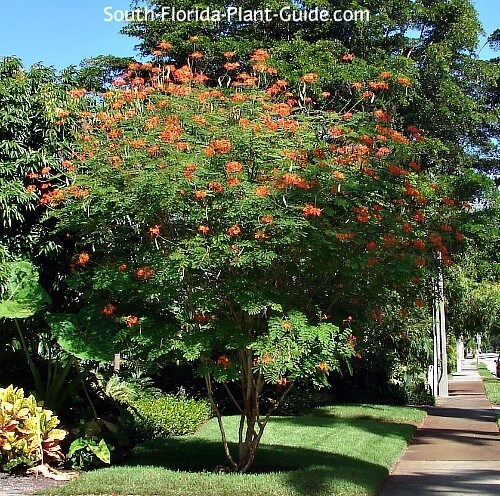 Dwarf poinciana is a shrubby, ornamental accent tree with multiple trunks, blooming on and off during warm months in South Florida.

Not actually related to the enormous royal poinciana, the dwarf's bloom is the national flower of Barbados, where the plant is known as "Pride of Barbados."
The butterfly-attracting flowers are brilliant red-orange (the most common color), yellow or dark pink, depending on the variety.
This diminutive flowering tree can be grown as a large shrub, if you prefer, or keep the base cleaned up for a more tree-like look.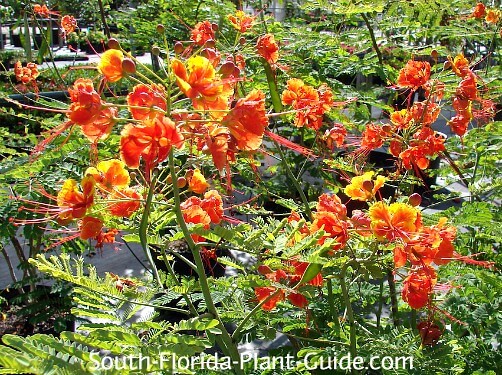 Plant specs
Dwarf poincianas like full to part sun and are fast growers to 10 or 12 feet, but can be kept trimmed at 6 to 8 feet.

Best in Zone 10. the tree can be grown in warmer areas of Zone 9B with winter protection.
Some sources describe the dwarf poinciana tree as evergreen, but that will depend on where in South Florida you live...the farther south, the more likely the plant will keep its leaves in winter. Once winter temperatures dip into the 40's, the tree will likely drop some or all its leaves.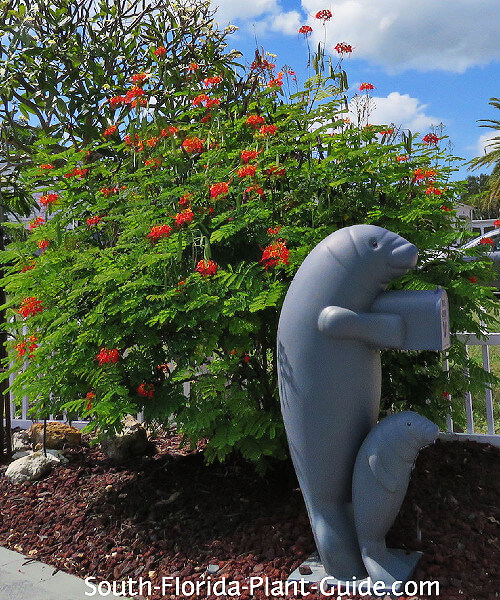 Young trees have thorns on the branches but they'll disappear as the plant matures and bark begins to form.
Seed pods form as the flowers die, and you can leave them there or remove them for a cleaner look.

This dwarf tree is moderately salt-tolerant and drought-tolerant once established. It prefers regular waterings with time to dry out in between. If nothing else, at least water it during dry spells when we've had no rain.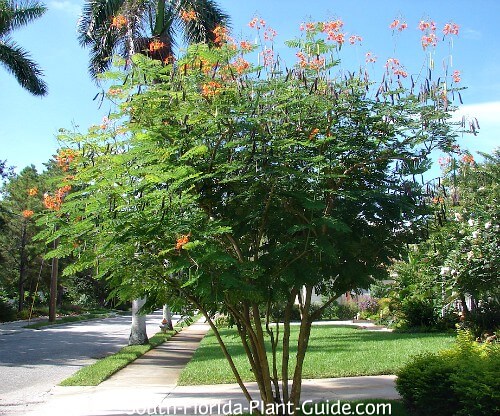 Plant care
Plant with a mixture of top soil (or organic peat humus) and composted cow manure added to the hole.
Avoid doing a hard spring pruning like you would most other plants. This will delay flowering too long and you won't get to enjoy the blossoms the way you should - all summer long.
Instead, in autumn - mid-October at the latest - trim the tree back, about 18 inches off each branch, to remove seed pods and encourage a bit of growth before winter sets in.
Trim again in summer after the first bloom, and cut off shoots around the base occasionally to keep the tree look.
Fertilize 3 times a year - spring, summer and fall - with a quality granular fertilizer. You can supplement feedings with bone meal to boost blooming.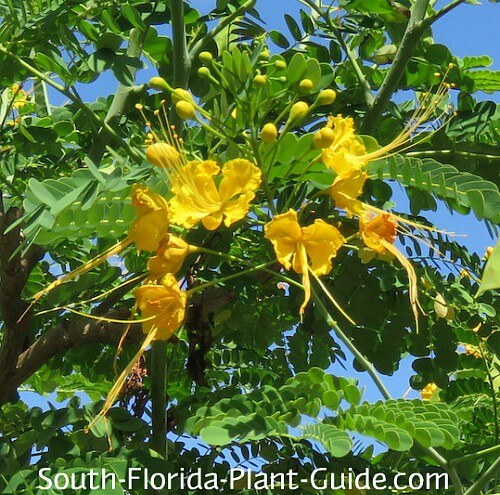 Plant spacing
Come away from the house 4 feet (or more) to allow the plant room to bush out.
Avoid placing too near walks, drives or play areas, since the branches do have thorns while the tree is young.
This plant grows fine in a large container.

---
Landscape uses for the dwarf poinciana tree

anchor for a butterfly garden or other bed
accent near the entry or for the corner of the house
single yard specimen tree
along a fence
to add height and interest to a blank wall

---
A.K.A. (also known as): Peacock Flower, Pride of Barbados, Red Bird of Paradise, Mexican Bird of Paradise
GOOD SNOWBIRD PLANT? NO
COMPANION PLANT SUGGESTIONS: Dwarf firebush, ground orchids that like sun, ice plant, croton, drift rose, Schillings (dwarf yaupon) holly, gold mound. and perennials like lantana, buttercup, bush daisy.
Other small flowering trees you might like: Cassia Trees, Red Cluster Bottlebrush Tree

---