Shade Trees

Shade trees are a welcome addition to most South Florida yards. They not only make beautiful landscape specimens, they also help cut down on high summer power bills.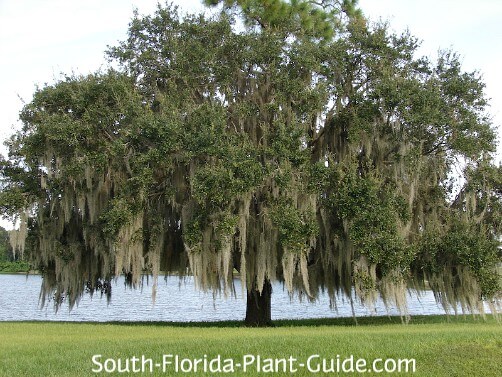 In this section, we feature great non-flowering trees that are grown for shade.
How large a tree should you grow?

A tree is generally the lowest-maintenance plant there is...unless it's badly placed. Plenty of room to grow means avoiding problems later.
Ideally, a tree should be planted a distance from your home that's half the width of the mature canopy.
The Plant Pages for each tree make it easy...we tell you how far away to plant from a house.
Tree shapes help you choose the right tree.

Shapes of trees range from broad-spreading to spreading, oval to rounded canopies.
Small yards are best with rounded or oval shaped canopies.
Large yards can handle spreading or broad-spreading forms.
Of course, flowering trees and even palms can provide shade as well...giving you many options for large or small shade trees.
What if you want a certain big tree and only have room for a mid-size one?
Large trees can often be trimmed to keep their height in check, though it will require professional trimming experts to do the work.
Plant for energy-savings!

Planting a tree on the South or West side of your property helps keep the hottest sun off the house.
Some of South Florida's most beautiful shade trees are deciduous - they lose their leaves in winter. If you're planting a shade tree for energy-saving, a deciduous tree is a good choice.
The leaves in warm weather protect your home from blazing sun. In winter, when the tree is bare, sunlight can get through the branches to help heat your home.
It's a win-win...unless you just can't stand the look of bare branches for a few months.
You can also grow a large shrub, small flowering tree, or certain accent trees and palms to protect one or two windows that get blasted with sun.
Evergreen trees offer winter protection for your plants.
Trees that keep their leaves year round can provide a sheltering canopy to protect plants below from frost.
They also act as a natural covering to keep winter temperatures a few degrees warmer in the area below them.
Need shade fast?

The Plant Pages explain the growth rate for each tree - a fast-grower will give you shade sooner.
If you find a tree you like but it's a moderate or slow grower, purchase a larger size to get shade faster.
Regular fertilization will help speed up the growth.
Worried about tree roots under your house?
AMAZING FACT: Roots of all plants in South Florida - even mature live oaks - go down in the soil no more than about 4 feet! Why? Because there's nothing there for them to hold onto, and no nutrients to make it worth their while.
Most houses already have lots of roots under them...and roots won't do any damage growing under a house provided the tree is placed well away.
Shade trees in this section include:

SUBSCRIBE TO OUR 'GROW-ZINE'
(It's FREE!)

Our monthly almanac & newsletter South Florida Monthly Grow-zine will come straight to you every month - What to do in the garden this month - Special plant news - PLUS what's new at South Florida Plant Guide.
Sign up below for next month's issue - and receive your FREE COPY of my article on "White Gardens."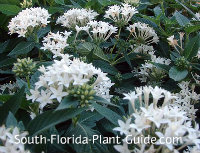 ---