South Florida Vines

South Florida Vines are an exuberant mix of spectacular flowers for summer or winter bloom.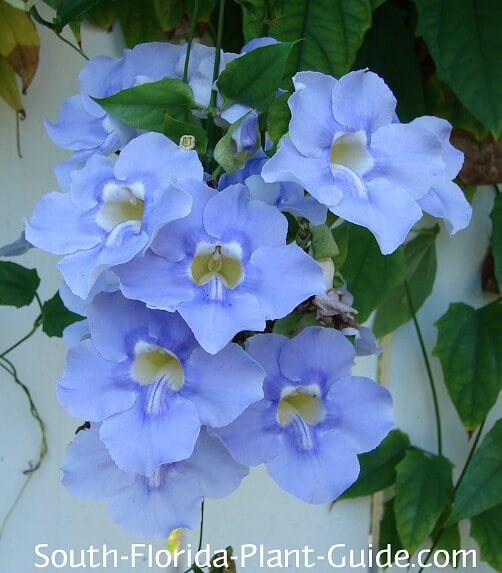 Vines are often used to camouflage or "pretty up" a bland fence, cover a fence in a hurry for privacy, or just give you the most bloom for the money.
Many attract butterflies, and some - like honeysuckle or jasmine vines - have a wonderful fragrance.
South Florida flowering vines include winter-bloomers and those that flower more in warmer weather (pretty much every season but winter), so if you have room for more than one vine you can have color all year from these beautiful plants.
Types of vines

Basically, most vines fall into one of two groups: twiners and leaners.
Twiners wrap their new growth around whatever they can find. You'll want to help them get attached while they're young but once they start going, they'll take off on their own.
Leaners are more shrubby plants with long stems that need your guidance to grow where you want them.
Using green tie tape (available from stores and nurseries), tie each stem for support at strategic spots to train it where you want it to go.
Leaners like allamanda and bougainvillea can be grown as large shrubs if you prefer.
(Bougainvillea is also covered under Small Flowering Trees and all the Shrubs pages for different height varieties. It's all the same plant...how it's grown and used in the landscape is the only difference.)
There are also "clingers" like Monstera Vine (on the Unusual Vines page) that attach themselves to tree trunks or meander up walls.
A few are covered under the Groundcover Plants section since they can be grown as a vine or a groundcover...namely creeping fig and golden pothos.
Room to grow (and grow...and grow)

Even though everything else in your yard grows bigger, vines can scamper all over the place - up trees, over bushes, across the roof, into the neighbor's yard, you name it.
Therefore, this is one type of plant you MUST have room for or it will take over.
Some vine varieties are more tame and controllable than others, and the Plant Pages will let you know what to expect from each one.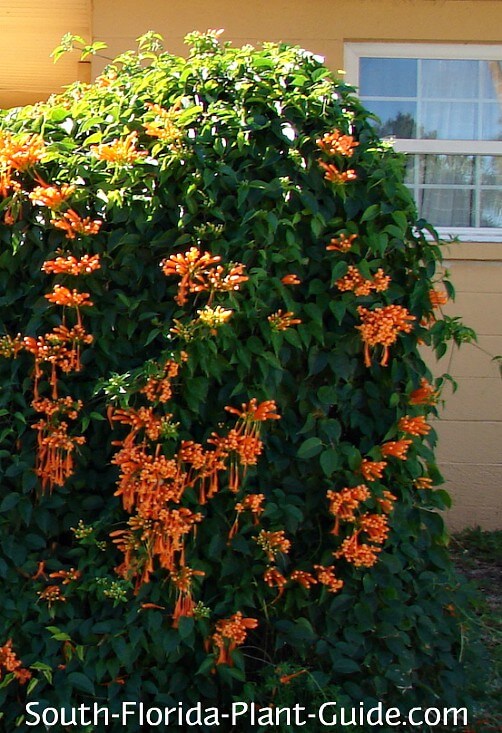 Allow plenty of space between a vine and the nearest shrub or tree when you plant.
Trim fairly often to keep a vine in bounds - don't go overboard though because you'll be cutting off new growth that produces flowers. Give it a good pruning once a year for size.

Vines will grow toward the sun, so keep that in mind when placing one in your landscape.
Keep grass away from growing up to the base of a vine. Mowers and trimmers can damage the plant's main trunk.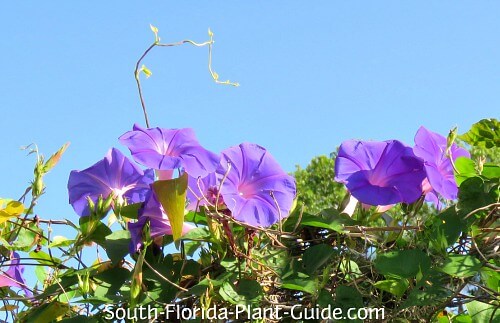 ---
Landscape uses for South Florida vines

covering a fence
decorating a free-standing arbor or trellis
on a wall trellis or lattice
wrapping a lamp post or mailbox post
draped over a pergola, the entrance to a porch or patio, or the side of a carport
South Florida vines in this section include:

SUBSCRIBE TO OUR 'GROW-ZINE'
(It's FREE!)

Our monthly almanac & newsletter South Florida Monthly Grow-zine will come straight to you every month - What to do in the garden this month - Special plant news - PLUS what's new at South Florida Plant Guide.
Sign up below for next month's issue - and receive your FREE COPY of my article on "White Gardens."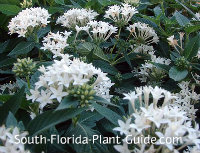 ---