Bougainvillea
Bougainvillea spp.

A tropical landscape showstopper, bougainvillea flaunts its flowers in a magnificent display of color on and off all year.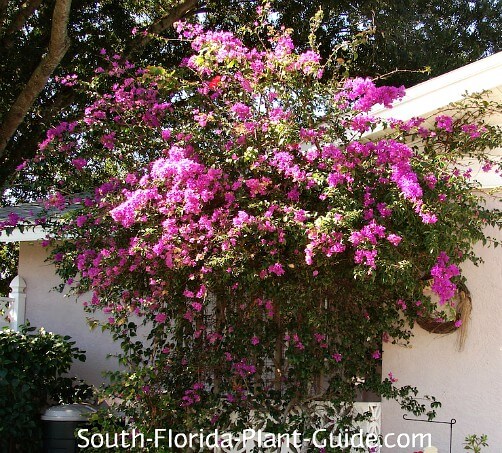 This is the queen of large flowering shrubs, a fabulous plant that can be grown as a viney shrub or a shrubby vine - or even as a stunning tree.
In all cases, the flower show is spectacular.
Available in a rainbow of color choices - red, pink, purple, white, orange, yellow, and many shades in between - this is one of the best Florida shrubs for year round color...especially in winter, when less things are generally in bloom.
Yes it has thorns. And they can be vicious.
But choosing the right area for planting - and wearing protective clothing and gloves when you handle this plant makes all the difference.

Q: Beautiful bougainvillea - is it a vine, shrub or tree?
A: Yes.

All of the above (except for certain varieties). It just depends on how you grow it in your landscape.
Buy it already trained to tree-form if you want a bougainvillea tree. Grow it as a large, sprawling shrub or give it something to lean on to train as a climber.

The colorful part is actually made up of flower bracts.
The bloom itself is the tiny white blossom in the center of the brilliantly colored bracts.
There are cultivars with variegated leaves, providing even more color interest even when the plant isn't blooming.

The full-size varieties get very large. If you aren't ready to commit to this shrub's size, then consider mid-size or even dwarf varieties.
However, the big "bougies" have the most options for color choices.
To be its beautiful best, this plant needs sun. Lots of sun. All day sun. Can't stress this enough. If you have less than full sun where you want to plant, you'll end up with a big, thorny plant that won't flower much.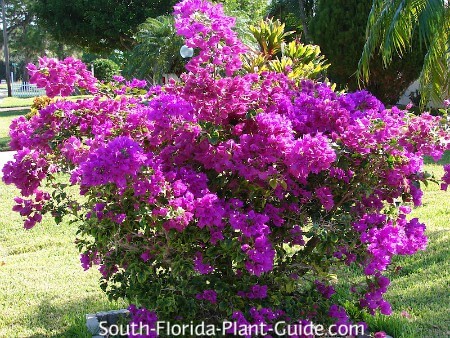 Plant specs
This plant is a fast grower you can keep somewhere between 6 and 10 feet tall and wide. The plant can grow 20 feet, in case you want to let it grow huge.

Full sun, full sun, full sun.

These are cold hardy plants that do very well in both Zone 9B and Zone 10.

Bougies are drought-tolerant plants once established, and are moderately salt-tolerant as well.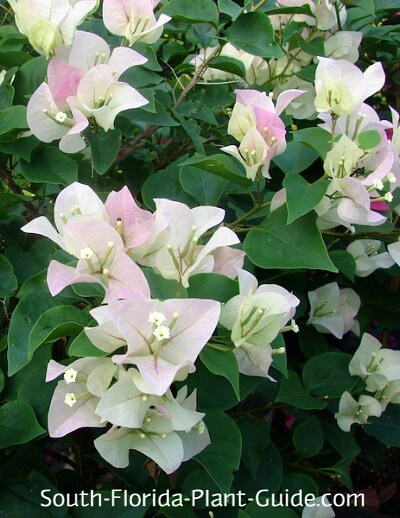 Plant care
Add top soil or organic peat moss mixed with composted cow manure to the hole when you plant.

Regular bougainvillea care involves trimming after each bloom cycle and then fertilizing to promote new growth and new flowers.
Trim each branch about 6 or 8 inches from the tip.

Give the plant some fertilizer with bloom booster each time you do this "haircut" to encourage the next set of blossoms.
If you need to, do a hard prune in spring (mid-March or later) after that particular flowering cycle is finished.

These plants like it on the dry side. Water regularly but give the plant plenty of time to dry out between waterings. Never place it in an area that doesn't drain well.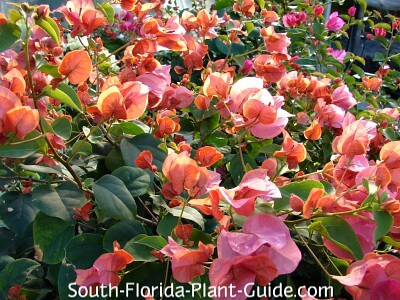 Plant spacing
If you grow this plant as a shrub, you'll need plenty of room. Allow 5 feet at least between it and any walkway or drive.
As a specimen plant in the lawn give yourself enough room to mow between it and other beds.
To grow as a large hedge, place plants 4 or 5 feet apart.
If you want to plant with other shrubs and flowers in a mixed bed, place it 5 feet away from the next plant. This is not only to preserve the nearby plant from being overtaken, but also to give you room to get to it for trimming.
To use as a vine you'll need a support system like lattice against a structure, or a fence or arbor. In this case, you can plant close to whatever it's going to grow on.
These plants do fine in large containers.

---
Landscape uses for bougainvillea
single yard specimen
large hedge
vine for trellis, fence, arbor or against the house

architectural accent
large backdrop for smaller plants
along a fence
in a large container for the patio

---
Other plants you might like: Knock Out Rose, Oleander
---