Ornamental Grass

  Fountain Grass, Pampas Grass & More
An ornamental grass like muhly, pampas or red fountain grass is excellent for adding fine texture and graceful beauty to a South Florida landscape.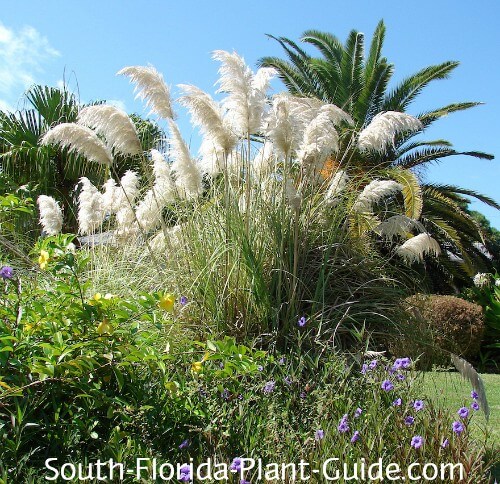 Each has its own distinct look and personality but all are wonderful as accent plants that work with any garden style - formal, tropical, or cottage garden.
These are easy-care plants once established, with little maintenance involved other than watering and fertilization.
Each one flowers - some with large, showy plumes, and others with thin, unobtrusive flower stalks. Most bloom during warm weather but often the flowers or plumes stay on the plant well into winter.

Choosing an ornamental grass that works for the space you have is all-important.
Most grasses grow in an arching fashion to form a fairly wide mound. Without proper planning for space, it can overwhelm nearby plants.
If you can, leave a mulched area of at least 1 or 2 feet between the grass (at its ultimate size) and the lawn.
Lawn turf like St. Augustine can spread into the ornamental grass and you'll have a tangled mess on your hands.

Ornamental grasses are pretty much pest-free and are considered deer-resistant...though we make no promises.
Popular Ornamental Grass Varieties

Pampas Grass
(Cortaderia selloana)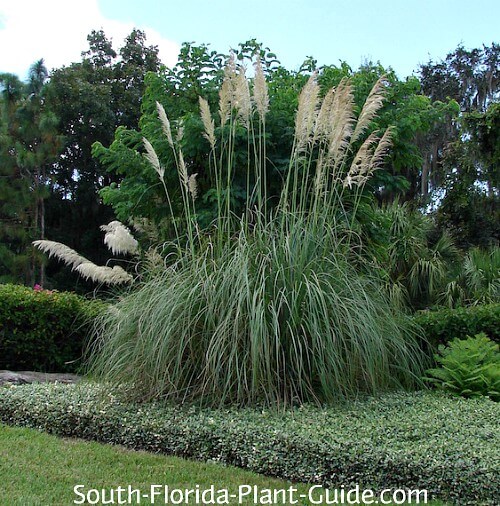 A spectacular grass that grows 8 to 10 feet overall (including plumes) and just as wide.
The plumes are white and very showy.

The leaves have sharp edges that can slice your skin like a bad paper cut, so plant away from walks, drives and play areas. When handling, wear protective clothing.
This big grass is best for large, spacious areas. It's cold hardy, moderately salt-tolerant and prefers a full sun location. It's also said to be deer-resistant.
Pampas needs to mature to about 5 feet to begin blooming.

Red Fountain Grass
(Pennisetum setaceum 'Rubrum')
Sometimes called Purple Fountain Grass, this favorite grows to 5 to 7 feet - or buy the dwarf variety that only gets 3 to 4 feet tall.

Dark maroon-red ribbon-like leaves are topped with with purple-beige plumes.
This plant is great in full to partial sun. It's cold hardy and not too big to work well in a mixed garden bed.
Because of its color, red fountain grass tends to show the browned thatch of old foliage more than most grasses. You might want to cut it back in spring and again in fall to keep the color more consistent and improve the plant's good looks. 

White Fountain Grass

(Pennisetum setaceum 'Alba')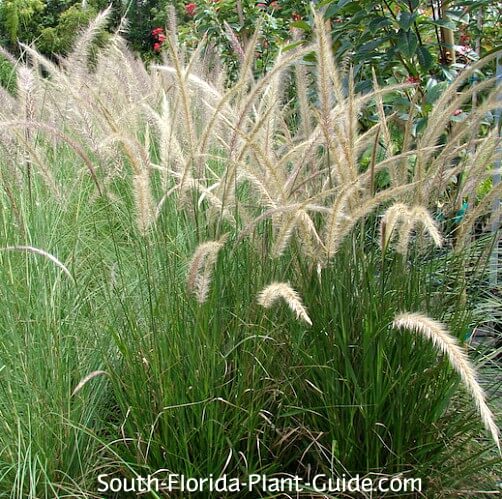 This thin leaved grass is consistently pretty year round.
It grows to 4 or 5 feet tall overall, preferring full to part sun.

This is a cold hardy plant that blooms on and off all year with cream-colored plumes.
Warning: It can re-seed and spread out to become more plant than you bargained for. Allow enough space for this and/or remove wandering new grass sprigs that pop up nearby.
White fountain grass is a great plant to line a pool cage. It provides privacy created by the dense, grassy base - yet it preserves the view because the soft flower spikes waving in the breeze are just the right height to see through and over.
Muhly Grass
(Muhlenbergia capillaris)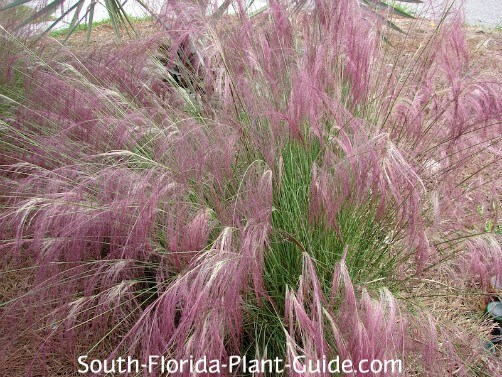 A very beautiful native grass, muhly has pinkish-purple plumes that appear in fall.
As the color fades to pale pink and then beige, the plumes can be removed or left on into winter.
Muhly can reseed but because of its size that usually doesn't present a problem.
This is a small grass, growing only about 3 feet tall overall.
Full to partial sun is best. Cold hardy, salt-tolerant, and an ornamental grass well worth planting in any garden.

Dwarf Fakahatchee Grass
(Tripsacum floridanum)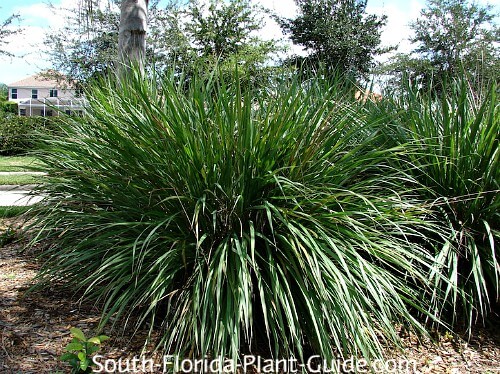 Also called "Florida Gama Grass," this green mounded grass looks like a super-sized version of green liriope.

It produces funky brownish-red flower spikes in summer, but it's grown more for its ease of care and attractive form.
This is a native grass, salt-tolerant and cold hardy. It grows into a full  clump of about 3 feet in full sun to partial shade.

Fakahatchee does best with regular watering and doesn't mind occasional "wet feet." For this reason it's often used to edge ponds.

There is also a full-size Fakahatchee grass (Tripsacum dactyloides) which can grow 8 feet tall and wide, with wider leaf blades than the dwarf variety.

Other Lesser-known Ornamental Grasses
Zebra Grass
(Miscanthus sinensis 'Zebrinus')
 Zebra is known for its "stripes" - horizontal cream or yellow markings on a silvery/green grass.
This plant grows about 6 feet tall and wide, and produces coppery-pink plumes in late summer.
It's best in full to part sun and is cold hardy.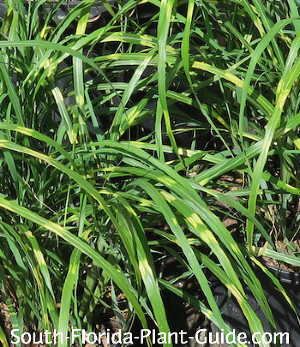 Tiger Grass
(Thysanolaena maxima)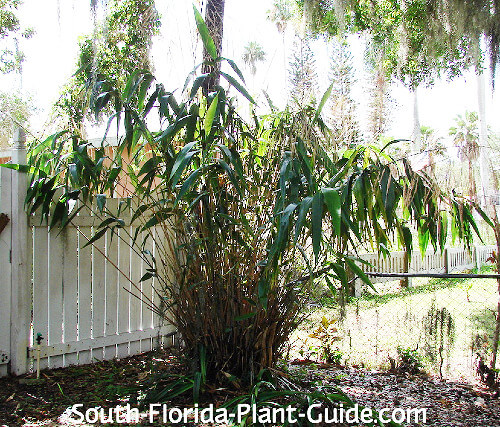 Grows to 8 feet tall and wide with fringe-like plumes and large leaves.
This grass looks similar to bamboo and can be used as a privacy screen or to fill in a corner of the garden.
Tiger grass needs regular waterings and seems happiest in partial shade. Best in Zone 10, or in a large container in Zone 9B.
Bamboo Muhly Grass
(Muhlenbergia dumosa)
Ethereal, super-fine fluff of a grass that does best in partial shade.
Slow-growing to about 3 feet tall, this plant needs even, consistent moisture...not too wet, not too dry.
Bamboo muhly grass may be hard to find but it's well worth the effort. In nurseries you might find it labeled "Hair Grass."
Use in Zone 10, or in containers in Zone 9B.
Plant specs
Most of these plants are cold hardy, fast growers that thrive in sun (see individual varieties for specifics).

Some grow very large, some are small, so the area you have available should determine your best choice for a grass.

Plant care
Ornamental grass care is fairly simple. Plant in a well-drained area...except for fakahatchee grass, which can take a more moist location.
Add a combination of top soil or organic peat humus and composted cow manure to the hole when you plant.
Even though some grasses are drought-tolerant once established, setting up long-term regular irrigation is best.
Generally no trimming is needed. For most varieties, you can just remove old flower stalks. But some (like muhly and fountain grasses) benefit from being cut way back, almost to the ground, in spring  - late March to early April.
Fertilize 3 times a year - in spring, summer and fall - with a quality granular fertilizer.
Plant spacing
The largest grass, pampas, should be planted at least 5 to 6 feet from the house or any walk or drive. Allow this much room as well between it and the nearest plant. Same spacing for full-size fakahatchee, zebra and tiger grass.

The rest can be planted about 3 feet apart. Come out from the house about 3 feet.
Grasses will do fine in a container - other than the largest varieties which will grow too big to handle - though they all do better in the ground.

---
Landscape uses for ornamental grass
single yard specimen
hedge
privacy screen
garden accent
bordering a walk or drive
as foundation plantings (smaller varieties)
surrounding tall palms
along a fence
around a large specimen plant
in front of tall hedge plants
backdrop for smaller plants

---
Other plants you might like: Firecracker Plant, Cycads
---