Dwarf Firebush

Hamelia patens 'Compacta'
Orange flowers tipped with gold set off the beauty of dwarf firebush, a great butterfly plant for South Florida home landscapes.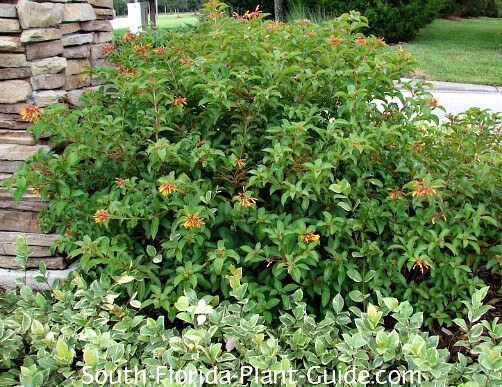 This delightful shrub blooms on and off all year - more during warmer weather - and attracts butterflies and hummingbirds to its brightly-colored, tubular flowers.
It has a light and airy charm and looks best when it's hand-trimmed to form a natural mounded shape, rather than trying to keep it manicured with hedge trimmers.

Now this is not the native variety, for all you native plant purists out there, though many nurseries sell the dwarf as just "firebush," which can get confusing.
Here's how to tell the difference:
The native grows larger and has slightly "hairy" leaves and deep red to red-orange flowers. It's dwarf "cousin" can be kept smaller and more compact, though with a similar informal look.
The smaller variety has smoother leaves and a touch of yellow to the blossoms...and requires a bit more care.

Plant specs
This shrub is a fast grower that can be kept 3 feet tall and wide, though you can let it grow larger if you prefer.

It does best in Zone 10...unlike the native variety which usually comes back even if cold kills it to the ground.

Though considered evergreen, the plant can lose leaves during a cold winter, though with proper pruning in spring it should sprout new growth and flush out again. A location sheltered from winter winds will help protect it.

These plants prefer full to partial sun, though they'll grow in part shade, where they'll flower less with more open growth.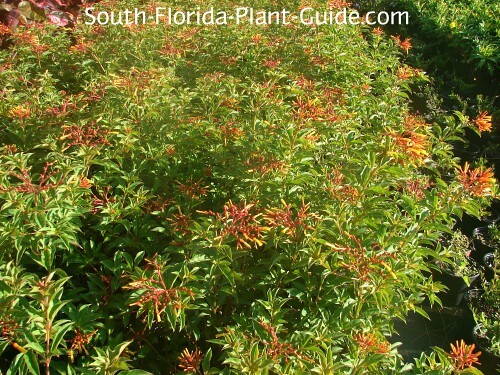 Plant care
Add top soil or organic peat humus to the hole when you plant.
You can also add composted cow manure to enrich the soil around the plant's roots.

Trim lightly to shape anytime, but do a harder pruning in spring (late March or early April) or fall (late September or early October) for size.
Water regularly. It's not as drought-tolerant as its native cousin but don't keep it overly wet.
Fertilize 3 times a year - in spring, summer and fall - with a good quality granular fertilizer.

Plant spacing
Place 3 feet apart and come away from the house 2-1/2 to 3 feet.

If you're planting along a walk or drive, come in 3 feet.

This shrub can be grown in a container.

---
Landscape uses for dwarf firebush
accent for a mixed bed
informal hedge
butterfly garden plant
lining a walkway or garden path
along a medium-height or tall fence
around a poolcage, patio, porch or deck
understory planting for tall palms
backdrop planting for smaller plants

---
Other plants you might like: Native Firebush, Firecracker Plant
---