Grow an Orange Tree

or Grapefruit, Lemon
& Other Citrus

To grow an orange tree in your backyard is one of the perks of South Florida living. Here are all the basics you need to know about growing citrus trees.

This guide is can be used for all types of citrus and most other fruit-producing trees  including avocado, mango, and litchi.
Planting
Citrus needs a sunny, well-drained spot to thrive.
Planting citrus 12 to 15 feet from the house and other trees is ideal.
Clear away grass from the area.
Dig a hole 1-1/2 times the size of the container.
Add composted cow manure to the hole. Do not add top soil or peat moss - they'll keep the soil too moist. Citrus trees don't like 'wet feet' and need to dry out between waterings.
Place the plant a little higher than the soil surface, fill in around the root ball and pack the dirt firmly. The top of the plant's soil as it was in the container should still be visible.

Do not mulch. This holds in unwanted moisture.

Using leftover soil from digging the hole, make a "bowl" around the newly planted tree.
Water once a day for the first three to five days by filling the bowl with water and letting it drain. Repeat this three or four times until you're certain the water has reached the bottom of the root ball.
After the initial three to five days, water the tree once or twice a week during winter, and two to three times a week in summer, depending on rainfall.
Keep grass from growing around the base of the tree.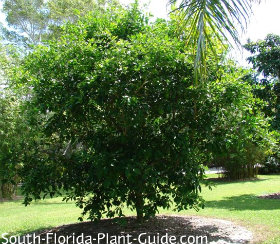 Fertilizing
To grow an orange tree successfully, fertilizing is a necessity.
After the tree has been in the ground a month, apply slow-release citrus fertilizer (4-0-8).
Sprinkle it around the drip-line (farthest foliage point).
For young trees, you can do a small feeding once a month. Use 1/4 lb. per foot of branch spread (the overall diameter of the tree).
Once the tree is established, fertilize three times a year - in spring, summer, and autumn.
For mature trees use 1 lb. per foot of branch spread.

Important: Always water well before and after fertilizing. Give the plant at least an hour to "drink" before applying fertilizer. Do a light watering afterwards to keep the fertilizer in place.
Spraying
This is the part of caring for citrus that most people fail to do - but it helps the tree produce more and better fruit and fights off pests.
Spray with:
Neem Oil (2 TBSP. per gallon of water) in summer. Spring and fall use a mixture of Liquid Copper (2 tsp. per gallon of water) and 50% Malathion (2 tsp. per gallon of water), and add a miticide to combat mites.

Do this in spring, summer and fall.
In spring, spray when the first flowers open to help set the bloom. DO NOT spray if there are a lot of blooms already open as this may interfere with pollination necessary for fruit production.
In late spring or early summer, spray when the fruit is about 1/4 inch in diameter to help to set the small fruit.
In autumn, spray when the fruit is close to ripening.
Harvesting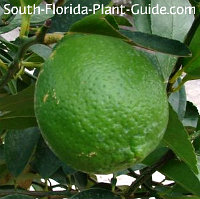 Fruit is ready when it pulls easily from the branch but if it's not completely ripe it will ripen off of the tree as well.
You can't always go by fruit color to know when something is ripe.
Winter temperatures can affect the color of fruit. Some oranges turn orange during a normal winter  - but if winter is unusually mild they may remain green on the outside.
Oranges and other citrus generally have a "season" for producing fruit. Lemons and limes, however, are considered "everbearing" and will yield fruit on and off all year.
Pruning
When you grow an orange tree you want fruit to be accessible. Pruning branches as you harvest fruit keeps the tree shaped and gives it enough time to regenerate for the following fruiting season.

Keeping a tree smaller and more compact not only reduces the amount of fertilizer and pesticide you'll need to use, but branches will also be stronger to hold more fruit.
---