Small Palm Trees

Small palm trees - growing to 20 feet or less - are some of South Florida's prettiest, most versatile landscape plants.
This is what living in Florida is all about...creating a tropical paradise around your home.
Many home landscapes benefit from the tropical touch of a palm - and small palm trees go almost anywhere!
Tropical doesn't have to mean tender - there are mini-palm trees that resist colder temps. The Plant Pages (see links below) will advise you on the cold-hardiness of each palm.
Check the Plant Zone Map to see what temperatures you can expect in a normal South Florida winter, and then choose accordingly.
How small is small?

Some palms in this section can grow to 20 feet.
You may not think of a 20' palm as small...but considering that some South Florida palms grow to 80 feet or more, 20 feet seems small by comparison.
In fact, many homeowners can use these "mini-palms" in combinations for a complete package of heights, shapes, textures and even colors.
Larger palms that grow slowly are often used as small landscape palms. The unique and whimsical Ponytail Palm can grow to 30' eventually (it's included in the Large Palms section) but it's a slow grower.
As long as you know the ultimate height a plant can grow, you can make the right choices for your landscaping.
Even though they don't grow really tall, small palms can still make a big statement, like the elegant spindle palms pictured above. How they're used in a landscape design can maximize their impact.
Cycads (commonly called palms) are a group of plants that look like a cross between a palm and a fern.Cycads grow out of the ground with a very short trunk or no visible trunk at all. These, along with silver saw palmetto, can be used as more low-growing specimens.
Cycads are included in this section, even though they're not actually palms.
Landscape uses for small palm trees

as a single specimen - great for small yards, even mobile homes
shading sunny windows
creating privacy along the property line, by windows, or around the pool cage, patio or lanai
by the entry
in the pool cage (some varieties)
island bed accent or anchor
corner of the house specimen
"understory" planting between the trunks of taller palms
backdrop for a focal point such as a fountain
in the center of a circular drive
in containers on the porch, deck or patio
Mix and match with other plants

Palms with visible trunks and a bit of height go well with mid-size or small flowering shrubs surrounding them.
More miniature palm trees, like the pygmy date with fronds close to the ground when it's young, are best set off by low-growing shrubs or groundcovers.
Fluffy, full-to-the-ground palms make an excellent background planting for flower beds of shrubs, perennials and annuals. Accentuate the area with a small flowering tree somewhat shorter than the palm.
How close to the house can you plant?

Growing palm trees - especially smaller ones - near the house usually works fine as long as you allow room for growth.
For more info, see the Palm Primer on the Large Palm Trees page. And the Plant Pages will advise spacing for each one.
Small Palm Trees in this section:
SUBSCRIBE TO OUR 'GROW-ZINE'
(It's FREE!)

Our monthly almanac & newsletter South Florida Monthly Grow-zine will come straight to you every month - What to do in the garden this month - Special plant news - PLUS what's new at South Florida Plant Guide.
Sign up below for next month's issue - and receive your FREE COPY of my article on "White Gardens."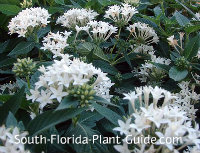 ---