Areca Palm

Chrysalidocarpus lutescens/
Dypsis lutescens

Not just another pretty face, the dramatic areca palm can do double duty as a spectacular tropical privacy screen.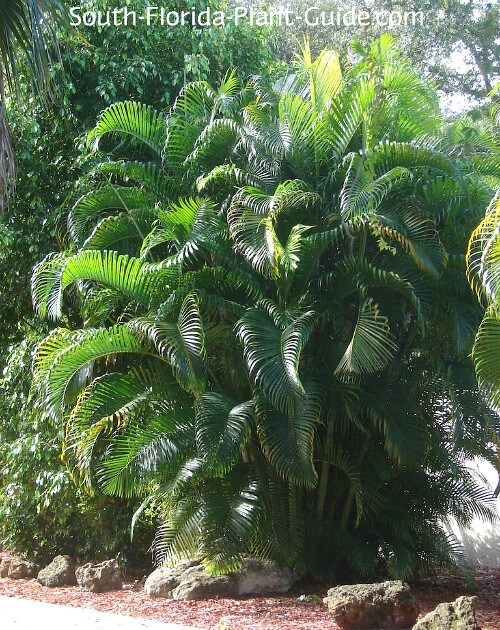 The soft, fine-textured fronds of a "Butterfly Palm" - as it's sometimes called - are full and dense.
This makes it a favorite for privacy, accents and garden backdrops in many South Florida home landscapes.
You can leave the palm fluffy and full to the ground, or thin it out to see more of the trunks.
Either way, this palm makes a great addition to most landscaping as long as it's well placed for its ultimate size.
Arecas are said to be deer resistant, though we make no promises.
Arecas are clustering palms...meaning a multitude of trunks spring up from the base of the plant, giving it a lush full look.
Trunks on the same plant can vary in size from pencil thin to thick as a person's arm, especially as the areca matures.
Plant specs

Areca palms are slow to moderate growers for sun or shade and can reach heights of 15 to 20 feet.
They're wider at the top - sometimes 8 to 10 feet or more in diameter - so allow enough room for the palm to grow a tropical canopy over nearby plants.
Zone 10 is best, though in warmer areas of Zone 9B that border 10A, you can use an areca in a protected spot.
You may see leaf tip burn after most winters, even in Zone 10. (See Plant Care below for trimming info.)
This palm is moderately salt-tolerant.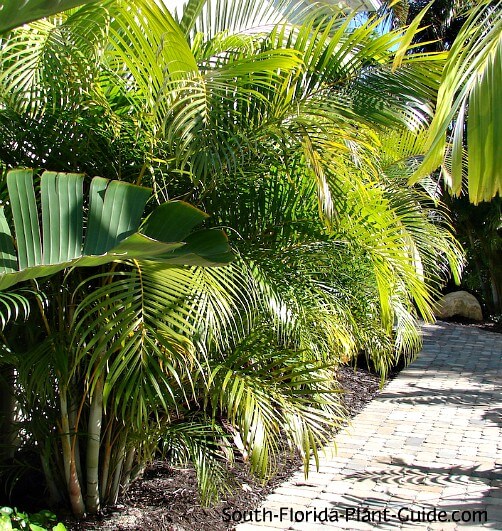 Plant care

Though these palms are considered self-cleaning, you'll probably want to trim off yellowed or browned fronds occasionally.
After winter's chill, the tips of the fronds may be browned.
You can go along and shear off just the brown tips, a tedious task but sometimes worth the work involved.

Leaf tip burn (the browned tips) can also occur when the palm goes too dry - regular water is necessary, though an areca doesn't like overly wet conditions.
You can plant a little on the high side to encourage good drainage.
Leaving the fronds to brown and fall off on their own is better for the health of the palm. If used as a backdrop specimen any discolored fronds will be much less noticeable.
Fertilize at least three times a year - in spring, summer and fall - with a granular palm fertilizer containing micronutrients.
Arecas love being "fed"...especially those in shade...and will reward you with gorgeous tropical greenery.
Plant with organic peat moss or top soil added to the hole.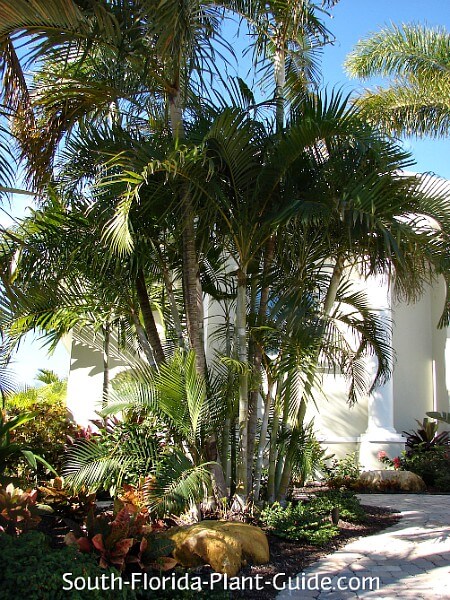 Plant spacing

For a hedge-type planting, position arecas 3 to 6 feet apart.
For a corner-of-the-house specimen, plant at least 4 feet away from the structure, making sure the palm won't eventually grow into eaves, gutters or roof lines.
You can clean up the trunks to allow more space to walk by them, as shown in the photo above.

An areca palm makes a stunning pool cage specimen, and can be grown in a container as well. Eventually it will outgrow a pot and need a larger one or go into the ground.
---
Landscape uses for areca palm

privacy screening or hedge plantings
in a pool cage planter (interior above 15 feet)
as a large corner accent
to cover a blank wall, fence or side of house or garage
container plant for pool, patio or screened lanai
---
A.K.A. (also known as): Butterfly Palm, Yellow Butterfly Palm, Eureka Palm (a misnomer, usually from someone misunderstanding "Areca")
GOOD SNOWBIRD PLANT? YES (if irrigation is available)
COMPANION PLANT SUGGESTIONS: As a backdrop for large shrubs such as jatropha and selloum philodendron or medium-size shrubs like hibiscus, copper plant and croton. As a secondary hedge to alter texture planted in back of viburnum suspensum.
Other palms you might like: Cat Palm, Arenga (Dwarf Sugar Palm)
---