Cat Palm

Chamaedorea cataractarum

Cat palm is a beautiful, fluffy little palm you can grow as an accent, backdrop or short, dense screen.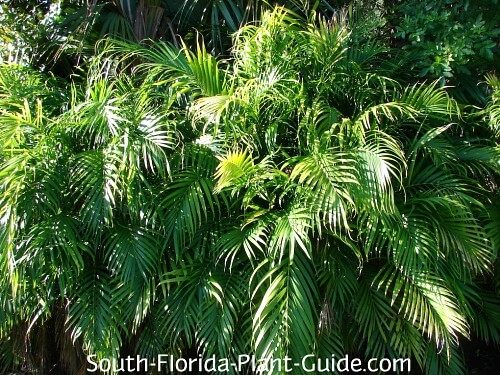 A cat is similar in looks to an areca palm, except the leaf stems (petioles) are green, whereas the areca's are golden yellow. This smaller palm works in places where the areca would be too large.
Plant specs

The cat palm tree isn't a tree at all...it's a clustering palm with no trunk whatsoever, just a dense clump of stems covered with feathery fronds.
This palm only grows 6 to 8 feet tall in a rounded form. It's a slow grower that will tolerate sun or shade, though shadier locations are best.
Plant in Zone 10, or in warmer areas of Zone 9B in a well-protected spot.
Plant care

These palms need regular watering, though they don't like "wet feet."
Plant with a good amount of organic peat moss or top soil in the hole to help the roots retain moisture.
Planted in full sun, a cat palm will require more frequent irrigation than one in shade.
Fertilize at least three times a year - in spring, summer and autumn - but more (up to once a month) if the palm is in a sunny location.
The fertilization (and additional watering) will help keep this palm's healthy deep green color.
You may have to trim some fronds occasionally for a nice clean look. Cut the stem off as close to the ground as possible.
Plant spacing

You can place these palms as close as 3 feet apart for a privacy screen or hedge, depending on the density you want.
For a location next to the house or a fence, come out at least 3 feet.
Cats work well in large containers, since their growth rate is slow - just make sure they get watered regularly.
If you plant one in a pool cage planter, remember to keep it away from the water's edge...because of their low salt tolerance, excessive chlorine from pool water can damage the foliage.
---
Landscape uses for cat palm

small screen around the pool cage or patio
privacy plant in front of windows
tropical backdrop for smaller plants
as a hedge along the property line or fence
lining a raised deck
as a filler for the corner of the yard
by the entry
understory planting for trees and taller palms
pool cage planter palm
accent for the corner of the house
in a "stairstep" planting in front of taller plants and behind smaller ones
in containers in the pool cage, patio or screened lanai
---
Other palms you might like: Bamboo Palm, Arenga Palm