Variegated Ginger
Alpinia zerumbet 'Variegata'
Variegated ginger - sometimes called "shell ginger" - dominates the tropical shade garden with striped green and yellow leaves and a wide-spreading habit.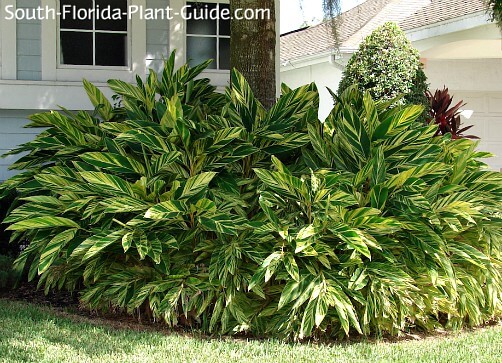 This handsome and impressive plant takes center stage anywhere it's planted.
It works as a surround for trees or palms, a filler for a corner bed, or an anchor plant for a mixed garden.
Especially valuable is the fact that this ginger can give color and impact to a shaded area.

The name shell ginger refers to the flowers that appear (infrequently) in warm weather, looking like strands of tiny white seashells.
The flowers are lightly fragrant and the leaves themselves have a tangy fresh aroma.

These plants are often seen growing in flat-out full sun but they prefer a bit of afternoon shade to keep the leaves from browning.
You can trim off the tallest stalks to keep this ginger a bit lower in size.
There are other ginger varieties, and one well worth mentioning is butterfly ginger.
It's a smaller plant overall that produces lusciously-scented white flowers that intensify their fragrance after dark.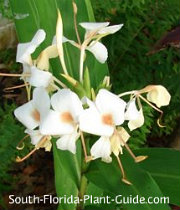 Butterfly ginger is a green-leaved plant that only grows about 3 feet tall, prefers part shade, and should be grown near the lanai or porch so you can appreciate the wonderful smell of the blossoms.
Plant specs
Variegated ginger is a moderate grower that can reach heights of 3 to 6 feet, and grows 5 to 8 feet wide.

These are moderately salt-tolerant plants that do best in part sun to part shade. Too much sun will burn the leaves and the leaves will fold up to try to protect themselves from the blast of sunshine.
It's moderately drought tolerant once established, and easy care as long as you've planned well for the plant's eventual size.
This plant does best in Zone 10.
However, in Zone 9B you can either grow it in a container to bring indoors during cold weather - or plant in a protected area.

It may die back in winter but usually sends up new shoots as weather warms up again.

Plant care
Add composted cow manure and top soil (or organic peat moss) to the hole when you plant. Choose a well-drained area or this plant won't do well.

No trimming is needed other than to do a warm-weather pruning for size and/or to remove a dead leaf now and then.

Although these plants don't mind dry conditions, they'll look their best with regular irrigation timed so that the soil has a chance to dry out between waterings.

Fertilize 3 times a year - in spring, summer, and fall - with a top quality granular fertilizer.

Plant spacing

These beautiful plants have a massive spread, so give them plenty of room to spread their wings.
Place them 4 to 5 feet apart and allow at least 4 feet between a ginger and the nearest shrub.

If planting around a palm, come out about 3 feet.
Come out from the house 3 feet, and in from walks and drives 5 feet if you can.

Ginger will grow in a large container.
---
Landscape uses for variegated ginger
single yard specimen
center of a circular drive
large accent for a mixed bed
backdrop for smaller plants
in front of tall green shrubs
corner-of-the-house accent
pool cage plant (for a large bed)
surrounding a palm tree
understory plant among large trees

---
Other plants you might like: Variegated Arboricola, Crinum Lily

---