Knock Out Rose
Rosa 'Knock Out'
Think you can't grow roses? The fabulous Knock Out Rose is a revolutionary low maintenance rose anyone can grow.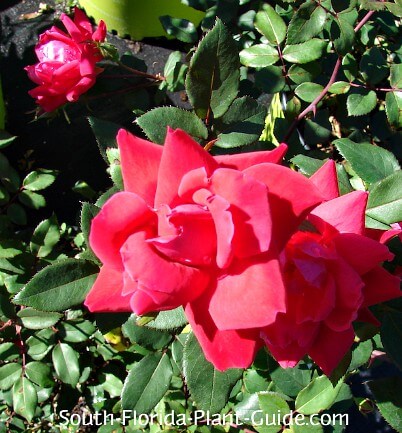 Growing roses in Florida - especially steamy South Florida - is a supreme challenge.
Grafted roses like hybrid teas or floribundas simply don't like our extremely wet summers, and fighting off problems like black spot and powdery mildew can take up a lot of time with limited success.

The award-winning Knock Out is a remarkable advance in rose breeding, a shrub rose that flowers with beautiful roses on and off all year  but requiring no special care...even here in South Florida.
A shrub rose is not grafted to a different rootstock, is hardier, and generally blooms most of the year.
These landscape roses are easy care, low maintenance plants, and Knock Outs are the best of the best.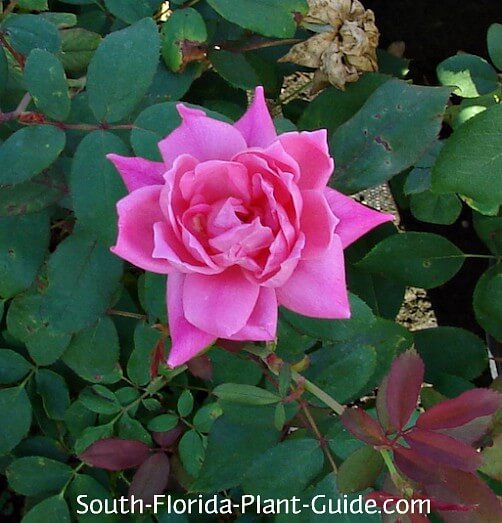 They're the most disease-resistant rose on the market today, thrive in an amazing number of planting zones, and work well for any homeowner - avid gardener or not.
William Radler, the rose breeder who created the Knock Out Rose, was inspired to come up with a rose so low-maintenance that he could continue his love of rose gardening into old age - no fussing over it, no warding off diseases, no deadheading necessary, a rose for all kinds of climates.
The three Knock Out varieties most commonly available are red, pink and yellow.

Red and pink come in double or single flowers. The double has a classic rose look, the single has old-fashioned rose appeal.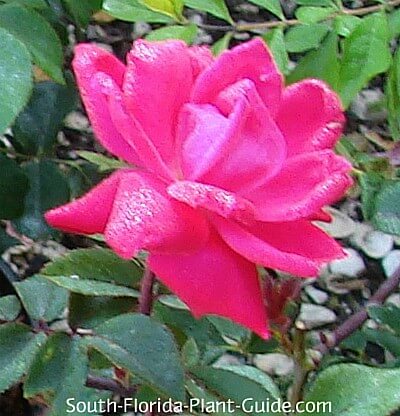 Yellow is a single-flowering variety that starts out golden yellow and fades to cream.
Pink and red have a light, sweet fragrance - but the yellow (named "Sunny") is the only truly fragrant Knock Out Rose with a strong, pure rose scent.

These roses are considered self-cleaning, meaning no deadheading is necessary. You can deadhead (snip off spent blossoms) if you want to tidy up the look of the plant - but it's not necessary for flower production.

A perfect addition to any landscaping style, a Knock Out Rose will give you nearly year-round color.
You can sometimes find them as standards - trained to tree-form - for a beautiful accent plant.
Just prune off stray shoots on the trunk occasionally to keep the tree look.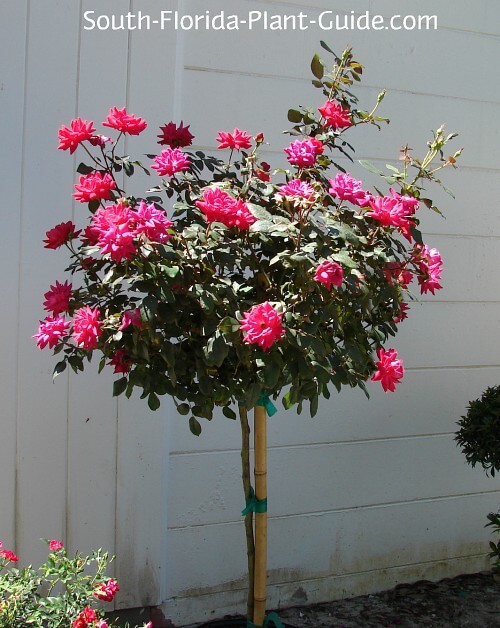 Plant specs

These roses are fast growers and can be kept 3 or 4 feet tall and wide.

They're cold hardy to a fault - happy anywhere the temperature doesn't drop below zero.
However, in Zone 10 at summer's end is the only time these roses aren't at their peak...the heat and humidity of rainy season can take a toll, though as the weather cools and dries, your plants will bounce back.

Full sun is best - at least 5 or 6 hours a day - for the most flower production.

They do have thorns so wear gloves to handle.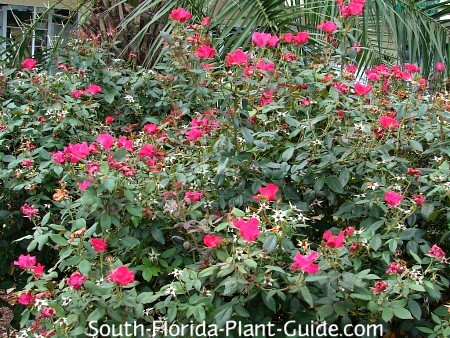 Plant care
Add top soil (or organic peat humus) and composted cow manure to the hole when you plant.

Cut down overly tall shoots anytime, and trim a few inches off the plant after each bloom cycle.

Do a hard pruning in spring (late March or early April). You can do another in fall (by mid-October).

Water on a regular basis, allowing the plant plenty of time to dry out between waterings.
It's important to water only around the base of the plant. If you must use overhead sprinklers, run your irrigation during the morning so moisture on the leaves will quickly evaporate.
Keep mulch away from the shrub's base by about 6 inches.

Wait to fertilize until the Knock Out Rose is established and has completed at least one bloom cycle. Then apply a balanced granular fertilizer (or one formulated for roses), making sure the shrub is well watered first so the fertilizer won't burn the roots.

This rose can show signs of black spot from time to time, since we live in a very humid climate. Not to worry...it should grow out of it.

Plant spacing
Situate these shrubs 3 feet apart. Come out from the house 2-1/2 to 3 feet.

If you're planting along a walk or drive, come in about 4 feet, so no one gets snagged by thorns as they pass by.

You can grow a Knock Out Rose in a container for a time but it'll be much happier in the ground.

---
Landscape uses for Knock Out Rose
single yard specimen
corner-of-the-house shrub
surrounding tall palm trees
entryway plant
large foundation plant
hedge
architectural accent
anchor or accent for a garden bed
along a fence
around a lamppost
lining a walk or driveway
backdrop for smaller plants
along the edge of a patio, deck, or porch
around the outside of the poolcage

---
Other plants you might like: Drift Rose, Mid-size Bougainvilleas
---