Green Island Ficus

Ficus microcarpa 'Green Island'
Green Island ficus should be used much more but many people don't know this handsome, award-winning shrub that's prized for its low-maintenance qualities.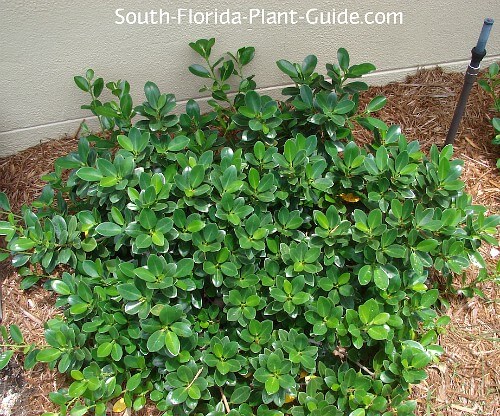 Many people are in South Florida to retire and relax, and others have busy, working lifestyles, so low maintenance shrubs are always high on the wish list.
Green island makes a wonderful addition to any landscape, working well as a new and different substitute for more typical shrubs like the popular Schillings holly.

Don't let the name "ficus" scare you - this variety won't take over your life or your landscaping. It's very well-behaved, grows more slowly and is easy to keep small.

Plus it's extremely versatile - growing almost anywhere in sun to part shade (see a listing of the many landscaping possibilities below) - as well as being one of the best easy care shrubs South Florida has to offer.
FNGLA (Florida Nurserymen and Growers Association) recognized it as a Plant of the Year in 2001.

The look of green island ficus is at home in both a tropical garden or a more formal setting.
This is a wonderful texture plant - deep green glossy leaves look similar to a jade plant, and contrast well with other foliage types and colors.

Plant specs
These plants are slow growers, spreading out as they mature, and can easily be kept at 3 feet. They'll handle full sun to partial shade.
Tropical in nature, this shrub grows best in Zone 10. It's drought- and salt-tolerant.
Parts of the plant contain toxins...the milky sap inside stems can cause skin irritations, so wear gloves when trimming and handling cuttings.
Plant care
No soil amendments are necessary though the addition of top soil (or organic peat moss) to the planting hole, along with composted cow manure, is beneficial.

Since this ficus grows slowly, you'll only need to trim occasionally for size and shaping.

Water during dry spells, or - better yet - set up a regular watering schedule that allows time for the plant to dry out between waterings.

Fertilizing isn't a necessity but we recommend you apply a high-quality granular fertilizer in spring, summer, and fall.

Plant spacing
Since green islands spread out as they grow, you can plant them 2-1/2 to 3 feet apart. Come out from the house 2 to 3 feet.
These make excellent container plants and can even be shaped in bonsai form.

---
Landscape uses for green island ficus
front of the border planting
foundation shrub
accent in a mixed bed
on each side of the entry or a gate
lining a drive, carport or walkway
in a poolcage planter
along a fence
fronting taller hedge shrubs
as a low hedge by itself
surrounding palms or trees that let light through their canopies
around the porch, deck, patio, pool cage or lanai
in a mobile home planter
around a mailbox or lamppost
under a taller accent plant
in drifts as a groundcover shrub
among landscape boulders
container plant for almost anywhere


---
Other shrubs you might like: Indian Hawthorne, Burfordii Holly

---