Indian Hawthorne
Raphiolepis indica

Rugged little Indian hawthorne is a breeze of a shrub - no green thumb required - that makes it a staple for South Florida landscaping.

---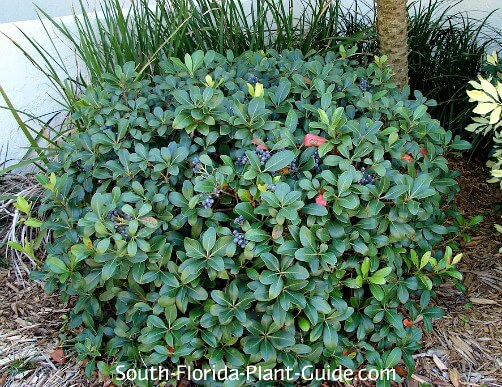 A very low maintenance plant, this small shrub is the perfect plant for the armchair gardener.
It goes almost anywhere - sun to partial shade - and puts up with cold weather and dry conditions.

Most of the year, hawthorne is a handsome plant that grows in a full, mounded form...but in spring it's decorated with small white flowers, followed by little blue-black berries that attract birds.

These plants can be used in a wide variety of ways, from foundation plants to bordering a walkway to massed plantings under trees where grass won't grow.
Plant specs
This small evergreen shrub grows slowly to about 2-1/2 feet tall by 3 feet wide.
It's cold hardy, salt-tolerant, and moderately drought-tolerant once established.

In cooler months, you'll notice an occasional bright red or orange leaf. Spring flowers are brief but very showy.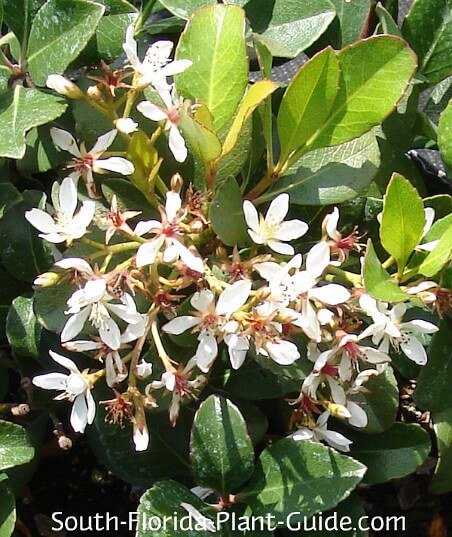 Plant care
Add top soil or organic peat humus to the hole when you plant. Additionally you can combine with composted cow manure to enrich the soil.

Hawthornes can take sun to part shade. Water regularly with time for the plant to dry out between waterings.

Because it grows slowly, you'll only need to do a minor light pruning to shape the plant, since it grows in a naturally beautiful mound.

Fertilize 3 times a year - once each in spring, summer and autumn - with a good granular fertilizer.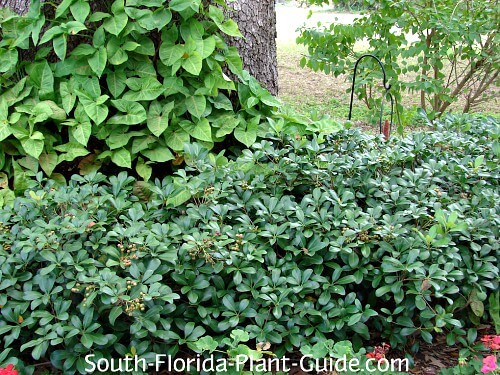 Plant spacing

Plant 2 feet apart. Come out from the house about 2 feet.

Hawthornes will grow in a container, and do well in mobile home planter boxes with good drainage.

---
Landscape uses for Indian hawthorne

foundation planting
surrounding palms or trees
along a deck, patio, porch
lining a fence or carport
bordering walks and drives
as a low hedge or fronting medium-height hedges
under low windows
around a birdbath or feeder
accent for a small mixed bed

---
Other shrubs you might like: Schillings (Dwarf Yaupon) Holly, Japanese Boxwood

---