Loropetalum 'Plum'

Loropetalum chinensis 'Plum'
Loropetalum is a garden stand-out not just for its richly colored foliage but also because it sets off everything else in your landscaping.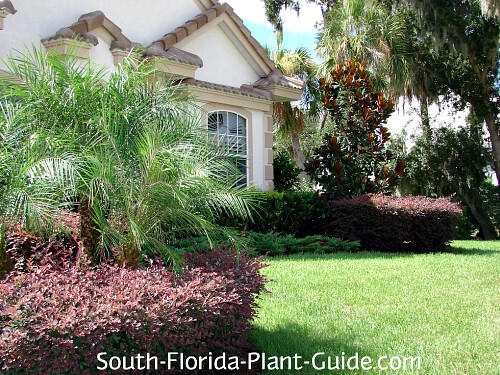 Here's the perfect alternative to green-green-green.
It's grown more for the beautiful leaf color rather than the small hot pink, fringe-like flowers.
'Plum' is a pretty shrub that can grow larger but is best kept about 3 feet tall.

There are many varieties of this plant (often called "Razzleberry"), some with green leaves and white flowers but the most valued are the red cultivars.
'Ruby' was the standard small shrub utilized in landscaping for years. It's a compact variety that flowers more heavily and consistently than other varieties.
But in recent years - in Central Florida - Ruby has had some problems. It's still doing fine in South Florida, but you may want to plant 'Plum' instead...they're very similar.

Plum is also known as 'Plum Delight', 'Hines Purpleleaf' or 'Pizzazz.' It's covered with blooms in spring, and produces on-and-off flowers the rest of the year.
Plant specs
This evergreen shrub is cold-hardy and grows at a moderate to fast rate. You can keep it 3 feet tall and wide with regular light pruning.

Plum blooms off and on all year, with heavier flowering in spring.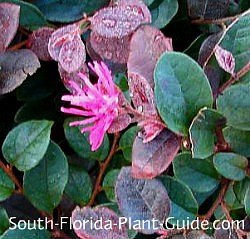 These plants need well-drained soil and prefer sun to part sun areas.
They will grow in part shade, as well - though in too much shade their vibrant color fades and they tend to grow more leggy.
If you have more of a partial shade location in mind, you may prefer the larger variety 'Burgundy' which will do well in sun to part shade.
Plant care
Add a combination of top soil (or organic peat humus) and composted cow manure to the hole when you plant.
Give the plant a shaping trim from time to time, and cut it back fairly hard in late spring - late March to early April - to encourage a flush of new growth to keep it bushy and full.
Water regularly but don't keep the area overly wet.
Fertilize 3 times a year - spring, summer and autumn - with a quality granular fertilizer. You can supplement feedings with bone meal and/or liquiid fertilizer to promote more flowers.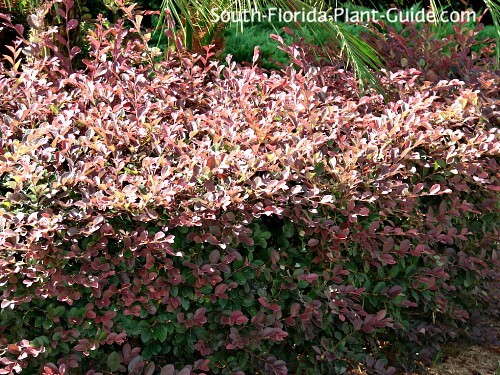 Plant spacing
Situate these plants about 3 feet apart, and come away from the house 2 feet or more.
If you're doing them as a border along a walk, come in about 2-1/2 feet from the edge of the walk.
This shrub will work fine in a container or planter.

---
Landscape uses for loropetalum 'Plum'

foundation plant
low hedge
surrounding a palm or tree trunk (as long as the tree allows ample sunlight to shine through)
bordering a walk or driveway
around the poolcage, patio, or deck
accent near the entry or in a garden bed
lining a fence
to add interest along a blank wall (in this case you may want to let the plants grow 3 to 4 feet)

---
Other shrubs you might like: Burgundy Loropetalum, Snowbush
---