Dwarf Powderpuff
Calliandra emarginata
Dwarf powderpuff adds interesting foliage and bright red puffball blooms to the color and texture tapestry of any landscape.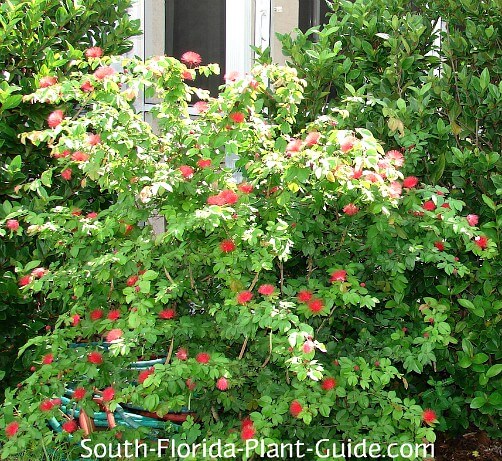 One of the most picturesque red flowering plants, this shrub fits in nicely in any size South Florida yard.

The branches grow outward in layers with flowers and buds along each branch.
The blossoms appear on and off all year (more in warmer months), with buds resembling little red berry clusters that open into scarlet powderpuff flowers.

This charming shrub attracts hummingbirds and butterflies and works in almost any light - providing color even in partly shaded beds.
Plant specs
Evergreen and cold-tolerant, this shrub can be used anywhere in South Florida.
It grows at a moderate pace, less fast than the full-size powderpuff plant.
The dwarf variety can be kept 3 feet tall.
Though this plant can be grown in full sun, it actually seems to do best in a part sun to part shade location.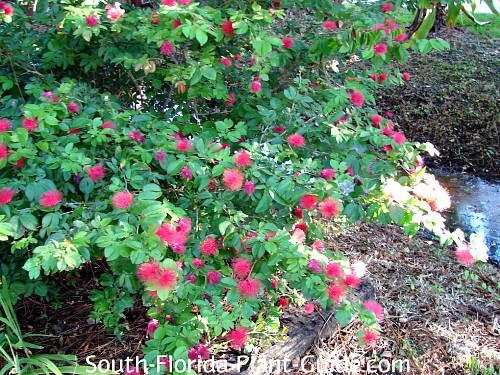 Plant care
Add top soil or organic peat humus to the hole when you plant.
You may also want to add composted cow manure to the mix to enrich the soil around the root ball.
You'll only need to do minor trimming occasionally for size and shape.
The plant produces seed pods which you can cut off to pretty up its appearance or leave on to fall off on their own. Cutting off seed pods may promote more bloom.

Give dwarf powderpuff regular irrigation with time to dry out between waterings.
Fertilize in spring, summer and autumn with a quality granular fertilizer. Supplement feedings if you like with bone meal and/or liquid fertilizer to promote heavier bloom.

Plant spacing
Place these shrubs 2-1/2 to 3 feet apart. Come out from the house 2 feet or more.

This plant works fine in containers.

---
Landscape uses for dwarf powderpuff
accent by the entry
as a backdrop for smaller plants
low to mid-height hedge
surrounding palms or trees tall enough to let enough light

hrough
around a taller specimen plant
along a fence
lining a porch, deck or patio
in pairs flanking the entrance to a drive or walkway
around the poolcage or lanai
accent for a mixed bed

---
Other shrubs you might like: Powderpuff (full-size), Red Maui Ixora

---