Dwarf Tibouchina
Tibouchina lepidota
Irresistably pretty dwarf tibouchina thrives in - and adds a punch of color to - partly shaded beds.

Purple-flowering plants are prized in South Florida, and this little shrub will reward you with incredibly gorgeous royal-purple blossoms.
The flowers appear on and off during the warmer months of the year.

Purple actually goes with everything - it's especially showy mixed with yellows, oranges and white.
And because this plant prefers a somewhat shaded spot, you can use it to create a pop of color in landscape areas that often have none.
There are other, larger varieties - shrubs urvilleana and grandifolia and even a tree-form, granulosa - and all have blossoms with astonishing bright purple hues.
Plant specs
This dwarf shrub grows at a moderate pace to about 2-1/2 to 3 feet tall. Part sun to partial shade is an ideal location.

It's tender and tropical, best in Zone 10 or the very warmest areas of Zone 9B that are right on the border. Protect from harsh winter winds and frost.

If this plant has been grown in full sun (ask at the nursery when you buy it) it's fine to plant it in sun. But it seems happiest - and prettiest - with at least a bit of shade.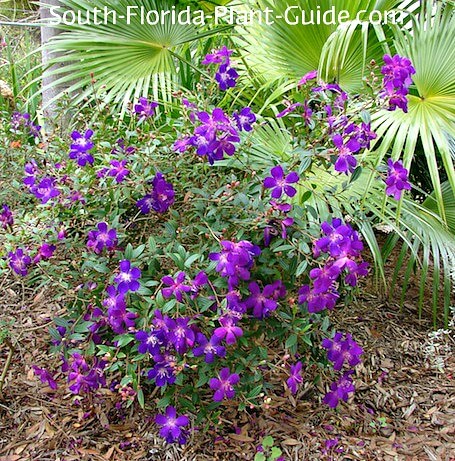 Plant care
Add top soil or organic peat humus to the hole when you plant. You can also add in composted cow manure to the mix.

These evergreen shrubs only need an occasional shaping trim. They may thin or defoliate in cold weather...wait till late spring (April) to cut out any branches that may look dead.

Fertilize 3 times a year - spring, summer and fall - with a good-quality granular fertilizer. You can supplement feedings with applications of bone meal and/or liquid fertilizer to promote heavier bloom.

Water regularly but don't keep the area overly wet.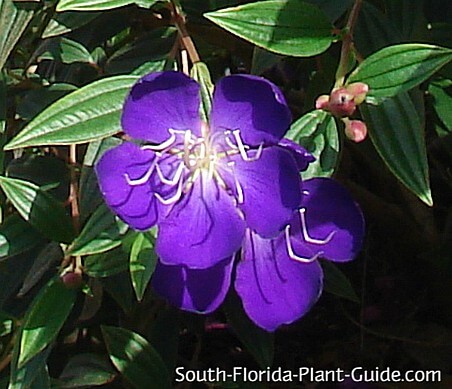 Plant spacing
Plant about 2 to 2-1/2 feet apart. Come out from the house 2 feet.

Tibouchinas will grow in containers with the right amount of light and water.

---
Landscape uses for dwarf tibouchina
accent for a mixed garden bed
lining a walkway or garden path
grouped under palms or trees that let some sunlight through
in drifts by the entry
along a low fence
front-of-the-border planting
low hedge in front of mid-size shrubs

---
Other shrubs you might like: Tibouchina Urvilleana, Yesterday Today and Tomorrow.

---