Cape Jasmine

Tabernaemontana divaricata
Cape jasmine - sometimes called crape jasmine - is a wide-growing shrub with sweetly-scented flowers.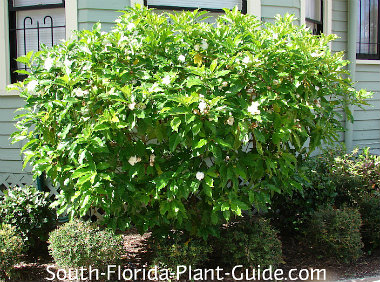 Also known as "Poor Man's Gardenia," these jasmine plants have glossy leaves similar to gardenia. They also have ruffled, snowy white flowers a bit like baby gardenias. The scent isn't the same but it's a light, very sweet fragrance - more so at dusk.
The beauty of this shrub is it's easier to grow than gardenia - more cold tolerant and less attractive to bugs.

Cape jasmine flowers heavily in spring and then blooms on and off during the summer.
It's a good shrub to use where you need to fill in a wide area, and can be grown as a small flowering tree.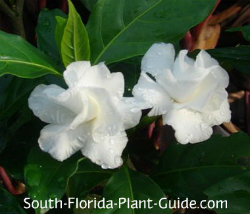 Plant specs
This plant is a moderate grower for full to part sun, though it actually likes part shade and will flower there.
You can keep it about 4 or 5 feet tall and wide.

Evergreen with large, shiny, deep green leaves, this jasmine (though not a "true" jasmine) is moderately cold hardy, doing best in Zone 10A and warmer areas of Zone 9B.
Place in an area protected from strong winds. Though a colder winter may defoliate the plant, it should flush back out in spring.
Plant care
Plant with either top soil or organic peat moss in combination with composted cow manure as soil amendments.
This plant needs regular waterings but likes a well-drained location. Trim occasionally to shape.
Fertilize in spring, summer and autumn with a good quality fertilizer high in phosphorus (or supplement with bone meal or liquid) to promote maximum bloom.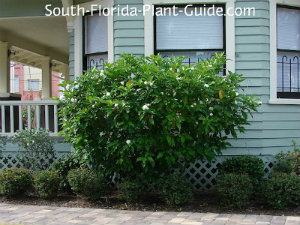 Plant spacing
This jasmine shrub grows fairly wide, and ideally should be planted 3 feet out from the house.
Come away from a drive or walk about 3 feet.
If you're planting a row or grouping, place them 4 to 5 feet apart.
They can be grown in large containers as long as watering is regular and sufficient.
---
Landscape uses for cape jasmine
accent for the corner of the house
backdrop plant for smaller shrubs and flowers
hedge

highlight an architectural element
shade or privacy for patio or pool areas
lining a walkway or drive
to add height and interest to blank walls
anchor plant for a garden bed


---
Other shrubs you might like: Gardenia, Night-blooming Jasmine

---