Japanese Boxwood

Buxus microphylla
The classy, very hardy Japanese boxwood is the ideal low-maintenance green shrub for South Florida homeowners.
Small, thick leaves, slow rate of growth and a bushy habit make this a dream of a plant for neat freaks and shrub sculptors.
It's perfect for formal, manicured landscaping...or you can just trim occasionally for a nice, natural look like the plant pictured here.

This compact shrub works virtually anywhere - mobile home planters, foundation plantings, under trees, you name it.
It can be used instead of the more typical Schillings holly for a small green shrub - the leaves are a brighter green than Schillings, and Japanese boxwood can take varying degrees of light.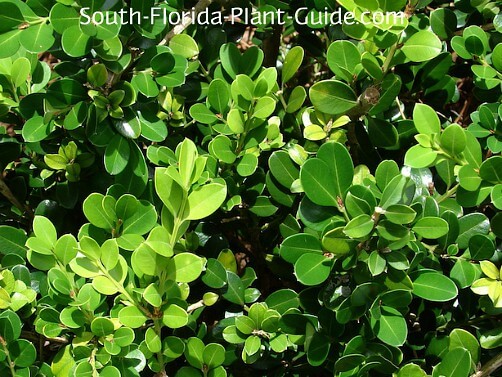 Plant specs
This wonderfully easy-care shrub grows slowly and can be kept 2 to 3 feet tall.

Cold hardy anywhere in South Florida, this small evergreen boxwood is moderately drought-tolerant once established.

It will grow in any kind of light - from full sun to full shade. Also it's considered a deer-resistant plant (though nothing is deer-proof).

Plant care

Plant with top soil or organic peat moss added to the hole. You can also mix in composted cow manure for soil enrichment.
How much trimming you do depends on how manicured you'd like to keep the plant. Since this little shrub grows slowly, you'll only need to trim occasionally - especially if you don't need a perfectly manicured look.
Regular watering works best but make sure there's enough time for the plant to dry out between waterings. If you don't have irrigation, hand water during dry spells.
Fertilize 3 times a year - spring summer and fall - with a top quality granular fertilizer.

Plant spacing
Since these boxwoods grow so slowly, plant them 2 feet apart if you'd like them to form a low hedge. Come out from the house 2 or more feet.

This shrub makes an easy-care plant for a container or planter.

---
Landscape uses for Japanese boxwood
foundation plant
bordering a walkway
surrounding a tree or palm
low hedge to line a driveway
small hedge planting in front of taller hedge shrubs
in a container for poolcage, patio, porch or lanai
along the edge of a deck, porch or patio


---
Other shrubs you might like: Schillings (Dwarf Yaupon) Holly, Indian Hawthorne
---