Weeping Willow Tree
Salix babylonica
The romantic weeping willow tree is simply perfection planted by a pond where its beauty is reflected in the water.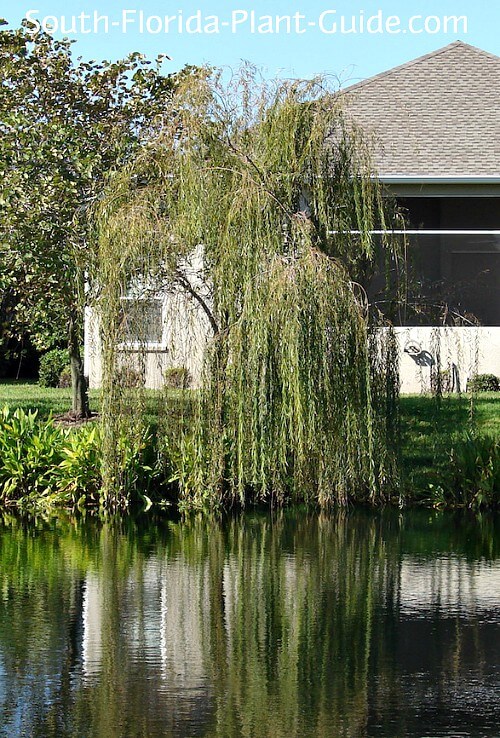 Of all weeping trees, this one is a classic...dreamy and beautiful, it's a favorite to sit under and read a book, watch as the long branches sway in the breeze, play hide and seek, you name it.

In South Florida, willow trees are happiest in cooler areas. They are deciduous (bare in winter) and need lots of room.

This tree has a medicinal background. Indians used to relieve headaches by chewing on young twigs...which contain salicylic acid, the main ingredient in aspirin.

Willows are ideally planted in a large backyard by water. They prefer moist soils - even very wet conditions - though they'll grow in drier spots with sufficient irrigation.

Just avoid planting a weeping willow anywhere near water or sewer lines (or septic tank drain fields). The tree's roots will go a great distance for water and can damage these systems.

Plant specs
This tree is a fast grower to about 40 feet with a very wide canopy. It loses its leaves in winter.

Plant in full to part sun in a wide open area or in a location near water such as a retention pond.

These are cold hardy trees and actually prefer cooler areas. Zone 9B is best, or at least areas of Zone 10A that border 9B.

The lifespan of a willow isn't especially long - about 30 years - but it's worth planting one for its beauty.

Plant care
If you're not planting right by water, add top soil or organic peat humus to the hole when you plant.
If planting by the water's edge, top soil isn't necessary.
No trimming is needed other than an occasional pruning of branches that touch the ground. If the drooping stems are in the way of foot or vehicle traffic, you can trim up to allow traffic to pass by.

Water on a regular basis.

Fertilize 3 times a year - spring, summer and autumn - with a good granular fertilizer.

Plant spacing
Place 20 feet (or more) from the house.
Make sure the tree won't be near and possibly interfere with water lines.

Come away from walks and driveways at least 12 feet so long branches and roots don't create a problem as the tree matures.

---
Landscape uses for weeping willow tree
accent by a pond
single yard specimen

---
Other trees you might like: Weeping Bottlebrush, Bald Cypress
---