Wax Myrtle
Myrica cerifera

Wax myrtle is a fast-growing, hardy native plant that can take tough conditions - heat, cold, wet and even salty areas.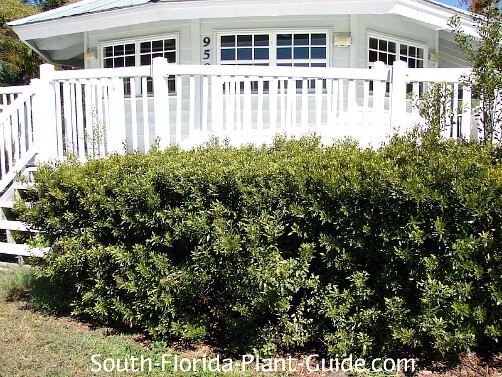 The dense, fine-textured foliage can be nicely manicured to create a more formal look, or let the plant grow into its natural upright, bushy form.

Birds are attracted to the small fruit produced by the female plant.
Small spring flowers are followed by clusters of tiny fruit that matures in fall and often lasts on the plant throughout the winter.

Sometimes called Southern bayberry, wax myrtle was used by early American colonists to make bayberry candles from the fruit's waxy, bluish coating. The foliage is also aromatic.      

Commonly used as a hedge or privacy screen, this fast-growing shrub can also be grown as a tree. It's also often planted along the edge of a pond.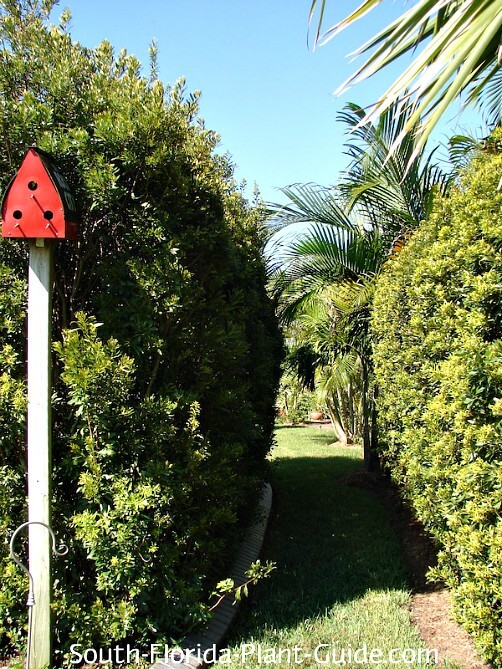 Plant specs

This is an evergreen shrub that's cold hardy enough to grow beautifully anywhere in South Florida.
It's a fast grower that can be trimmed to 5 or 6 feet tall and wide, or left to grow much larger - 20 feet or more.
Avoid placing in windy locations...fast growers like these tend to have more brittle wood stems.
These plants prefer full to partial sun to look their best.
They're salt-tolerant and perfect for beach landscapes.

They also can take "wet feet" and work well in locations by water such as a pond. Additionally, they're considered deer-resistant (though nothing is deer-proof).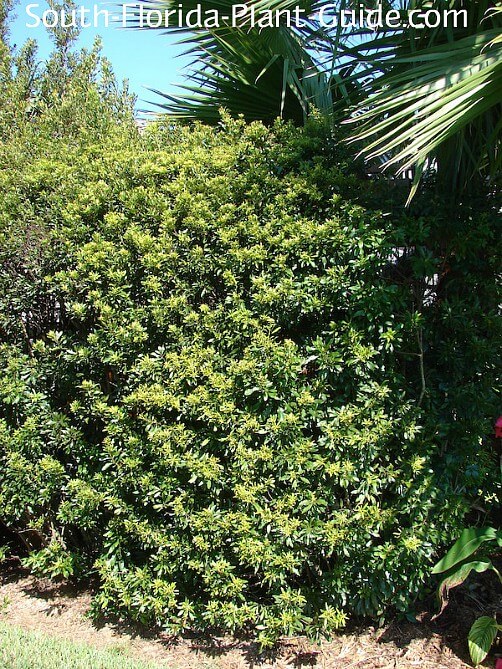 Plant care
Add top soil or organic peat humus to the hole when you plant. Adding composted cow manure isn't necessary but can be beneficial.

Wax myrtles can be shaped with a light shearing of foliage using hedge trimmers.

These shrubs stay healthier and live longer if you remove no more than 1/3 of the plant during a hard pruning.
If you need to, do up to 3 hard prunings a year - spring, summer and early autumn (before October 15th), so not too much of the old wood is removed at a time.
Don't cut back so far that you have mostly leafless stems.
Too frequent heavy pruning tends to eventually cause some patches of the plant to die back, and this practice can shorten the life of this shrub.

Water on a regular basis. Though these plants can put up with a bit of dry weather, they'll do best with regular irrigation.

Fertilize 3 times a year - spring summer and autumn - with a high-quality granular fertilizer.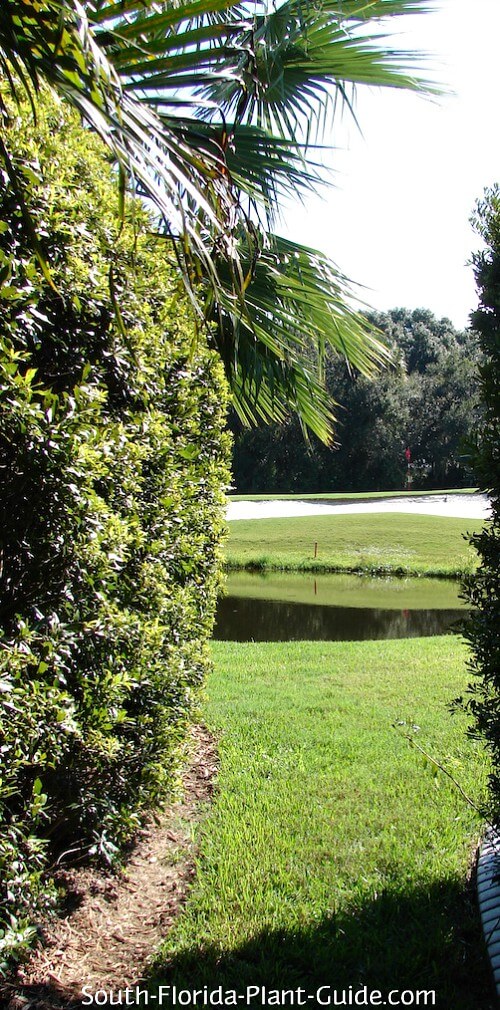 Plant spacing
To grow as a hedge, plant these shrubs about 3 or 4 feet apart.
In a mixed bed, allow 4 feet between this plant and other shrubs.

Come out from the house 4 feet. Near a drive or walkway, come in 4 or 5 feet.

These shrubs grow too fast to make good container plants.

---
Landscape uses for wax myrtle
hedge
large accent
lining the edge of a pond
along the driveway
backdrop for smaller plants
privacy screen
shade plant by the patio or deck
along the property border
large anchor for a wildlife garden
small tree

---
Other plants you might like: Eugenia, Viburnum
---