Bush Allamanda
Allamanda schottii
Of all the allamanda varieties among South Florida shrubs, bush allamanda is probably the most easy-to-grow, with bright green foliage and abundant yellow flowers.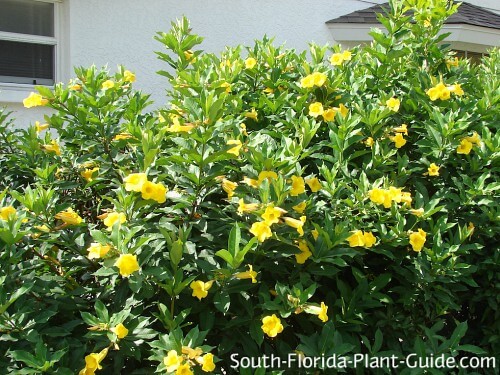 The clusters of golden trumpet-shaped blossoms appear on and off most of the year - more during warmer weather.
The plant will grow too large eventually to work as a foundation shrub, but other than that, it's one of the most versatile yellow flowering shrubs for any sunny spot.
Its size and color make it an ideal accent, hedge or single specimen for the yard...even a not-too-tall privacy screen around lanai or pool cage.
Equally at home in formal landscaping or a more casual setting, all this pretty shrub requires to keep it neat and tidy is an occasional trimming to bring out its naturally elegant form.

These plants tend to become bare at the base when they're more mature. If you dislike that look, grow small plants around the allamanda to cover up the trunk.
If you like allamanda but the bush variety is too large for your needs, consider the dwarf variety.
There's also a vine, Brown Bud Allamanda, with huge yellow flowers.
Plant specs
Bush allamandas are evergreen and moderately salt-tolerant. They're moderate growers that like full to partial sun and do best in Zone 10.
You can keep them trimmed at 3 feet while young and then 4 or 5 feet tall once they're mature.

Plant care
Add top soil (or organic peat moss) and cow manure to the hole when you plant.

Trim as needed to shape and cut back in spring (late March or early April) for size.

Water on a regular basis, but don't keep this plant overly wet. Let it dry out a bit between waterings.

Fertilize 3 times a year - in spring summer and autumn - with a quality granular fertilizer.

Plant spacing

Allamanda bushes grow wider at the top, so place them no closer than 3 feet apart.
Come out from the house at least 2-1/2 feet.
If planting along a walk or drive, come in 3 to 4 feet.
These shrubs can be grown in large containers.

---
Landscape uses for bush allamanda
single specimen
accent for a mixed bed
lining the edge of a deck or patio
along a fence
as a backdrop for smaller plants
anchor for a garden bed
around the base of tall palms
on each side of a garden gate or entryway
medium-height hedge
corner accent for the house
privacy plant
screening plant for A/C or other things you'd like to camouflaged
along a blank wall for height and interest

---
Other shrubs you might like: Dwarf Allamanda, Thryallis
---