Beach Sunflower
Helianthus debilis
A charming sight in any landscape, beach sunflower - sometimes called beach daisy - blooms with bright yellow daisy-like blossoms.

This is one plant that doesn't like to be over-loved. A native plant, it likes our sandy soil and is nicely tolerant of dry conditions.
It flowers on and off year round, with a fast spreading habit.
Beach sunflower is very effective as a lush, front of the border planting. It also makes a great surround for a palm, lamppost, fountain or bird feeder.

It's best used in a casual landscape for its cottage garden appeal. The blooms attract butterflies, and make pretty cut flowers for the dinner table.

Plant specs
This groundcover is a fast grower and gets about 18 inches tall. It needs full to part sun to flower the most.

Zone 10 is best, where it will flower year round. You can grow it in Zone 9B but it may die back in winter and come back in spring.

Salt tolerant and drought tolerant, it's a good plant for beachside locations.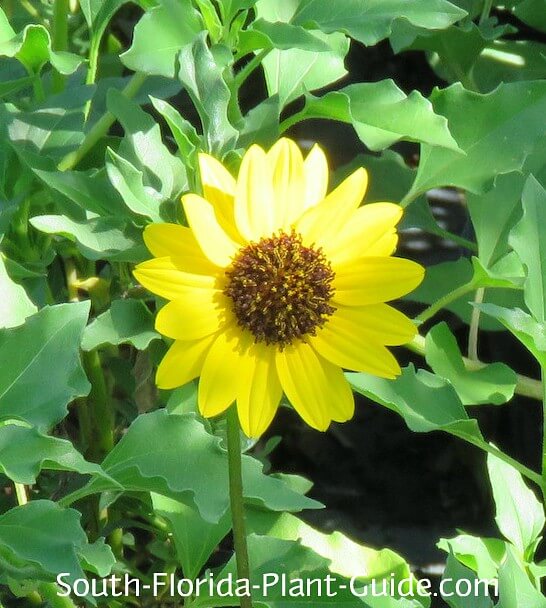 Plant care
No soil amendments are needed for this plant.

Occasional trimming may be necessary to keep it in bounds, but a spring pruning is vital.
Cut plants back in late March or early April to encourage new full growth.

Water on a regular basis but with enough time between waterings for the soil to dry out.
Make sure the planting area drains well or this plant won't be happy.

Fertilize twice a year - in spring and late summer - with a good quality controlled release fertilizer.

Plant spacing
Place these groundcovers about 3 to 4 feet apart. Come in from walks and drives at least 3 feet.

This plant will work in a container but is at its best in the ground.

Other groundcovers you might like: Railroad Vine, Coral Creeper
---