Cassia Trees
Cassia spp.



Cassia trees are known for their display of delightfully showy, bright yellow flowers.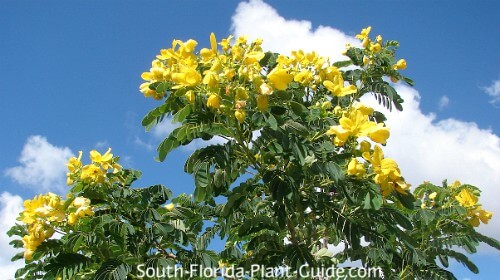 Desert cassia, cassia surattensis ("Scrambled Egg Tree"), and cassia fistula ("Golden Shower Tree") are incredibly beautiful in full bloom, and they make perfect small-space trees.
Desert cassia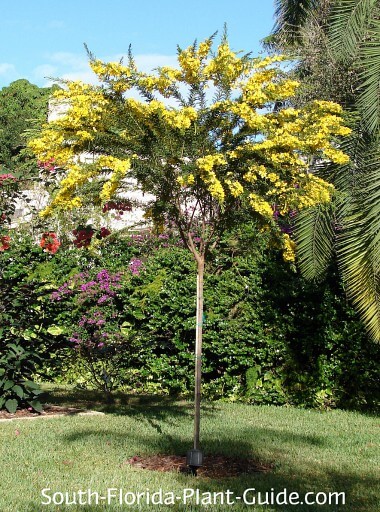 Desert cassia (Senna polyphylla) is the "baby bear" of the three - growing to only 10 feet tall with spring and fall flowers.
This sweet little tree is salt-tolerant and evergreen, with tiny leaves and a fast-growing habit.
An ideal centerpiece for a butterfly garden, it's the most cold-hardy of the bunch, tolerating temperatures in Zone 9B. It may drop some leaves if winter is harsh.
Cassia surattensis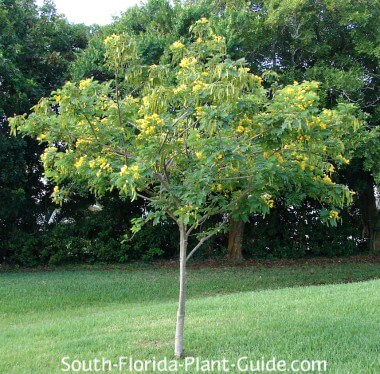 Cassia surattensis is a fast grower to 12 to 15 feet.
Another butterfly attractor, this cassia tree also blooms twice - in spring and fall - with pretty, bright green foliage year round (it can thin a bit in winter).
The surattensis is happiest in Zone 10A, or warmer areas of 9B in areas sheltered from winter winds.
Cassia fistula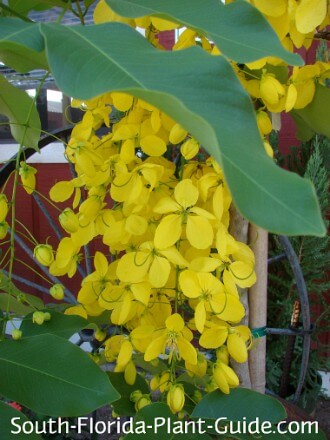 Cassia fistula blooms in summer (and sometimes again in fall) with incredible cascading flower clusters that sometimes are so prolific you can barely see the green leaves for the flowers.
Its common name is "Golden Shower Tree."

This is the most cold-sensitive of the cassias - fine in Zone 10A as long as it's in a protected spot.
It can be semi-deciduous or lose every leaf on it depending on how cold the winter gets.
Fistula can grow to 30 feet, but we've included them here because they generally only reach about 20 feet in home landscapes. They're salt-tolerant and fast growers.
Plant specs
All cassia trees prefer a sunny location with well-drained soil.
Stake your tree - it will protect it from strong wind or extreme leaning like the surattensis pictured below.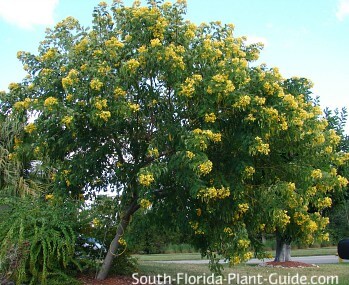 Plant care
Add organic peat humus or top soil to the hole when you plant - or, better yet, a combination of one of those and composted cow manure.
Next to no trimming is needed on any of these trees, though you can prune for bushiness, shape or post-winter clean-up - do this in late March or early April when we're past the threat of frost.
Fertilize each of the cassias with a quality all-purpose granular fertilizer (supplement with bone meal to promote bloom) in spring, summer and fall.
Seed pods can form after flowering...remove them or leave them on. Keep these trees on a regular watering schedule.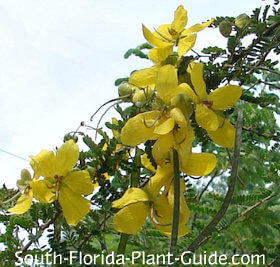 Plant spacing
Cassias can go quite close to the house - desert cassia as close as 4 or 5 feet, surattensis as close as 6 to 8 feet, and fistula 8 feet or more.

These plants aren't suitable for growing in containers.
---
Landscape uses for cassia trees
accent around a patio or outside the pool cage

single yard specimen (and shade tree - surattensis and fistula)

centerpiece for a circular driveway

anchor plant for a garden bed

corner-of-the-house accent

focal point near the entryway

to add mid-height and color between the trunks of tall palms

accenting architecture such as pillars

along a fence or property line

at the entry to a walkway or drive

adding interest along a blank wall
---
Other flowering trees you might like: Powderpuff Tree, Golden Dewdrop Tree
---