Golden Dewdrop Tree
Duranta erecta

The delightful golden dewdrop tree sports purple flowers, golden berries, and an easy-care personality.

This is a good wildlife plant...the berries attract birds and the flowers of this pretty tree attract butterflies. The berries and flowers make a great show of it, often visible at the same time, and the heavy berry clusters cause the branches to weep.

Dewdrop is also available with white flowers, and there's a stunning cultivar with variegated leaves.

Buy a golden dewdrop already trained to a single trunk. It starts out in life as a dewdrop shrub, and all the hard work is already done for you by the grower. Keep the trunk cleaned up to maintain the tree look.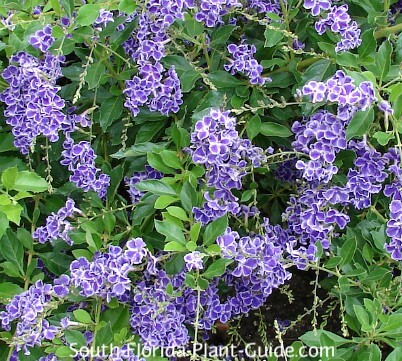 Plant specs
The dewdrop tree (sometimes called duranta tree) is a moderate to fast grower that can grow as tall as 8 to 15 feet, though it can be kept trimmed to 6 feet. The top can grow wide if you let it.
It does best in full to partial sun, but will also grow in part shade, though it won't flower as much.
Golden dewdrop trees are evergreen, moderately salt-tolerant and cold hardy through Zone 9B. They'll bloom on and off all year, more during warm months.

This plant is TOXIC (berries and foliage) to children and pets. It can also be a skin irritant...if you have sensitive skin, wear gloves when trimming or handling this plant.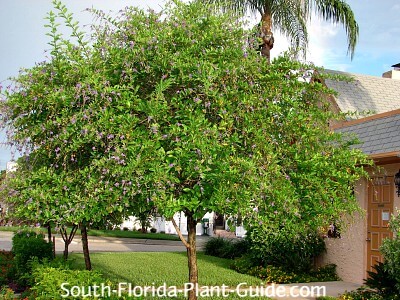 Plant care
Add top soil or organic peat moss to the hole when you plant. An addition of composted cow manure to the mix will be appreciated.
Because of the rate of growth, you may want to trim fairly often to shape, but avoid constant cutting or you'll never get flowers.
Prune the tree hard in the spring (late March to early April), and regularly trim off bottom shoots to clean up the trunk.

Fertilize 3 times a year (in spring summer and fall) with a good granular fertilizer high in phosphorus (or supplement with bone meal and/or liquid) to promote flowering.

Golden dewdrop needs a regular watering.
Plant spacing
Plant a golden dewdrop tree 3 to 5 feet from the house.
If you're planting several in a row, place them 5 feet apart.
Dewdrop will grow fine in a large container with regular waterings.
---
Landscape uses for golden dewdrop tree

single yard specimen (especially nice for a small yard like a mobile home)
accent by the entry
anchor for a garden bed
along a fence or property line
to add height to a blank wall
privacy for a bathroom or other window
sun block for a window
small shade tree by the patio
in pairs flanking a gate or driveway entrance
lining a walkway or drive

---
Other small flowering trees you might like: Tibouchina Tree, Bougainvillea Tree
---