Ixora
Ixora coccinia
'Nora Grant' & 'Super King'

Tropical beauty ixora is known for its showy pom-pom clusters of flowers, and larger cultivars Nora Grant and Super King have some of the brightest bloom colors of all.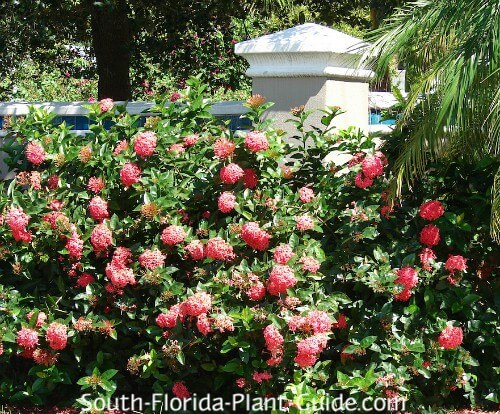 One of the most popular Florida flowering plants, irresistably pretty Nora Grant blooms with bright, hot pink flowers.

Handsome Super King has big, deep scarlet blossoms, making it one of the most eye-catching red flowering shrubs for the garden.

These outstanding landscape plants bloom on and off during most of the year, more so in warmer months. They attract butterflies and thrive with just basic care.

Their size works in any yard with correct placement. Too tall for use as foundation plants, these larger varieties can add color and interest along a blank garage wall or a plain fence.

Elegant yet casual, their look fits in well with tropical landscapes or cottage-garden style, as well as more formal designs.

Since the Maui and dwarf varieties are smaller, Super King and Nora Grant are more effective for hedges, privacy plants or bigger, fuller accents.
All varieties are considered deer-resistant plants, though we make no guarantees.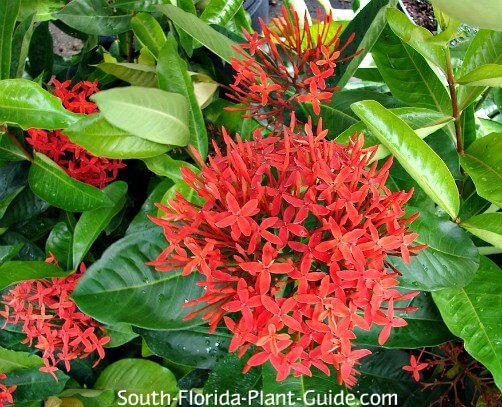 Plant specs

These shrubs are evergreen and can be kept 3 to 5 feet tall.

They're fast growers that do best in Zone 10, particularly warmer areas of the zone. Both are less tolerant of cold weather than the Maui variety, and Super King can be especially cold-sensitive.
Plant in a frost-free area protected from strong winter winds.

This plant will grow best - and flower most - in full to partial sun.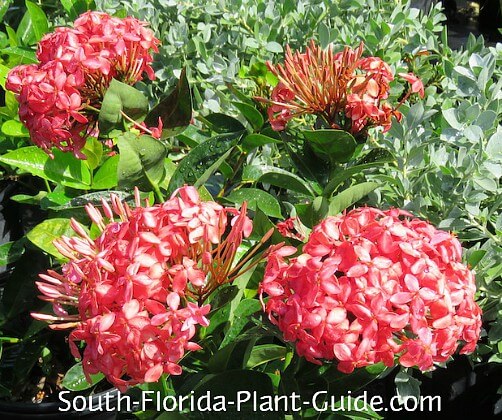 Plant care
Add top soil or organic peat moss to the hole when you plant.
You can also add in composted cow manure to enrich the soil around the plant's rootball.

Trim lightly for shaping anytime during warm months.
These shrubs look best with branch trimming, rather than being manicured with hedge trimmers. They have a naturally beautiful, mounded form and can grow fairly wide.

Water regularly but let the plant dry out a bit between waterings.

Fertilize 3 times a year - in spring, summer, and autumn - with a quality granular fertilizer with numbers like 7-0-7. These shrubs are happier with an all-purpose food, the same fertilizer you'd use for non-flowering shrubs.

Plant spacing
Place about 3 feet apart. Come out from the house 2 to 3 feet, and away from walks, drives, or the entry 3 feet or more to give the plant room for growth.

Ixoras can be used as container plants.

---
Landscape uses for ixora

mid-size hedge
around a porch, patio, deck, lanai or pool cage
accent by the entry
surrounding tall palm trees
along a blank wall
lining a walk or driveway
on each side of a garden gate
along a fence
anchor plant for a mixed bed
background for smaller plants

---
GOOD SNOWBIRD PLANT? YES

COMPANION PLANT SUGGESTIONS:
Nora Grant: Blueberry flax lily, snowbush, ligustrum sinensis, silver buttonwood, copper plant, dwarf oleander, muhly grass, and lantana.
Super King: Dwarf allamanda, variegated arboricola, croton, thryallis, ruella, dwarf bottlebrush, and beach sunflower.

Other plants you might like: Panama Rose, Plumbago 
---