Parkinsonia Tree
Parkinsonia aculeata
The graceful Parkinsonia Tree, also called Jerusalem Thorn, likes it hot, dry and sunny - a good description of many of our yards in South Florida.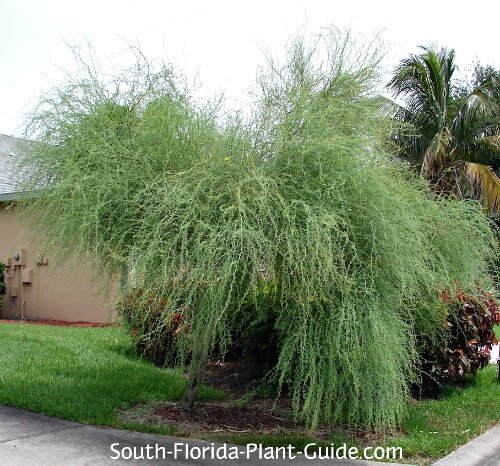 A wide-crowned, sweetly weepy tree, the parkinsonia is blanketed in spring with showy yellow blossoms. (We'll add a photo here - as soon as we can catch a good one - to show this lovely tree in full bloom.)

This tree does have thorns, so it's not a good choice for planting in areas where children play or where passersby must brush against it to get by.

But its airy appearance and easy-care habits make the parkinsonia tree a great choice as an accent or anchor for a bed of other drought-tolerant plantings.
Plant specs

These trees are deciduous (bare in winter) fast growers to heights of 15 to 20 feet.
The trunk branches out very low, creating a wide crown spread of 15 (or more) feet.
Parkinsonias prefer full sun and a well-drained area. They're cold-hardy all through South Florida, thriving anywhere in Zones 9 or 10.
Drought-tolerant once established, the parkinsonia is also salt-tolerant, making it a great seaside specimen.
Branches are bright green with sharp thorns (sometimes called "spines"), but the tree loses the thorns with maturity as bark begins to form.
Plant care
No soil amendments are necessary, although adding composted cow manure to the hole when you plant will be appreciated.
If you place the parkinsonia correctly, you won't have to do any trimming. If it grows too close to drives or walks, you will have to prune back branches to keep anyone or anything from comimg in contact with its thorns.
Water regularly to get your tree well-established, at least during its first year in your yard. After that, water during dry spells when we've had no rainfall.
Fertilize 3 times a year - spring, summer and fall - with a good quality granular fertilizer.

Plant spacing
Keep in mind the potential width of the tree's crown when you plant.
Place a parkinsonia no closer than 8 feet from the house.

Normally a "Jerusalem Thorn" tree is used singly in the landscape, but if you decide to do a row of them, position them 6 to 8 feet or more apart.

Always remember the thorns and where they may eventually reach.

A parkinsonia tree will grow in a large container while young.
---
Landscape uses for parkinsonia tree

anchor for a garden bed
architectural accent plant for the corner of the house or to add interest in front of a blank wall

providing light shade planted near the patio

between trunks of tall palms

single specimen tree
---
A.K.A. (also known as): Parksonia Tree (a misspelling)
GOOD SNOWBIRD PLANT? NO
COMPANION PLANT SUGGESTIONS: For planting underneath, use only very low-growing groundcovers like jasmine minima (Asiatic jasmine), ice plant, or baby sun rose. Plant a parkinsonia in front of larger, coarse-textured plants like mirror-leaf viburnum or sea grape. Or use the tree as an anchor for a garden bed of drought-tolerant plants such as crown of thorns.

Other small flowering trees you might like: Weeping Bottlebrush Tree, Cassia Trees

---