Brazilian Red Cloak
Megaskepasma erythrochlamys

The spectacular Brazilian red cloak will add some 'Wow!" to your landscape with its huge blossoms in late fall through early spring.

This shrub is a real show-stopper that can be used as a stunning specimen plant, or it can be grown for privacy and even as a hedge.

The enormous flower spikes are actually fluffy red flower bracts that "cloak" the small white blossoms within, similar to bougainvillea. Birds including hummingbirds are attracted to its nectar. And the blooms work well as cut flowers.

When mature, Brazilian red cloak will bloom on and off all year as well, with heavier flowering in cooler months.

That being said, there may come a year where you get little or no flowers. This plant sometimes takes a year off. Don't panic, it will bloom again.

Plant specs
This evergreen shrub is a fast grower you can keep about 6 to 8 feet tall and quite wide (6 feet or more).
It can take sun or shade but seems happiest in a part sun or part shade setting...ideally located on the eastern side of the house where it will get full morning sun and some afternoon shade.

However, red cloak will also flower in full shade. It definitely does better when at the least the base of the plant is shaded.
When grown in a lot of sun the foliage tends to turn pale...with some afternoon shade it will keep its pretty green color.

It's considered cold tolerant, fine anywhere in South Florida. You may see some leaf drop and other damage from cold in Zone 9B but the plant usually bounces right back.

Expect flowers from late fall into spring. Young plants may not bloom their first year, though.

The shrub is said to be deer-resistant. And for those of you in the Florida Keys, I've read that this is one plant key deer don't eat! (No guarantees, though.)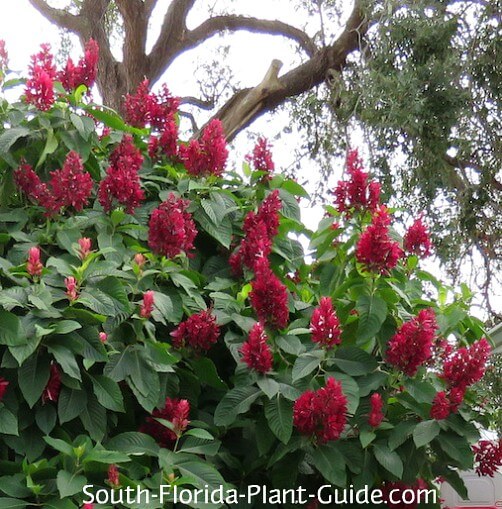 Plant care
Add top soil or organic peat moss mixed with composted cow manure to the hole when you plant.

Fertilize with a quality granular feed in spring, summer and autumn.
Give it a trim for size and bushiness in late spring or early summer, after the cool-weather flowering season is over.

Regular watering is a must for these shrubs. However, don't plant in an area that stays wet long after a rain.

Plant spacing
Brazilian red cloaks need plenty of room to fill out properly. Place a row of them 4 to 5 feet apart, and go 6 feet if you can from any nearby shrubs.
Come in from a drive or walk about 5 feet and plant at least 3 or 4 feet out from the house.
As a specimen plant in the lawn, allow enough space to mow between it and other beds.
This plant does well in a container, but in the ground it will come into its own as a true star of the garden.

---
Landscape uses for Brazilian red cloak
single yard specimen
large hedge
large backdrop for smaller plants
---
A.K.A. (also known as): Brazilian Red-cloak

GOOD SNOWBIRD PLANT? YES

COMPANION PLANT SUGGESTIONS:  Avoid planting around the base of a young Brazilian red cloak since the eventual width of the plant will overcome most small things around it. Nearby plants - especially in a partial shade location - might include pinwheel jasmine, variegated arboricola, blue porterweed and tibouchina grandifolia.

Other plants you might like: Firespike, Powderpuff

---