Blue Porterweed
Stachytarpheta cayennensis

Blue porterweed is one of the most popular of South Florida's butterfly attracting plants, with brilliant blue flowers appearing partway up the funky, swirly, upright stems.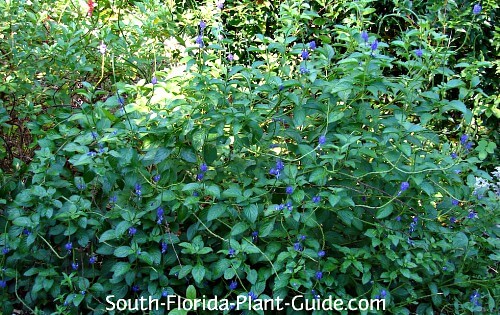 Blue is the most commonly grown variety, and the only one that's moderately cold hardy.
Other varieties including pink, purple and red porterweed have varying sizes and growth habits. The blue is the one to buy if you don't have a lot of room - it stays much smaller.
(There is a Florida native blue porterweed, Stachytarpheta jamaicensis, which is grown as more of a groundcover, since it has a horizontal branching pattern.)
These are informal, somewhat sprawling plants with cottage-garden appeal. They look their best in a casual setting such as a mix of flowering plants and/or in butterfly gardens.
The flowers appear on and off all year, usually more during warmer months.
In shade (see photo above) the blooms appear more blue, but in sun they tend to look blue-purple.

Plant specs
This plant is a fast grower - in fact, it grows like a weed (hence the name). You can keep it trimmed to about 2-1/2 to 3 feet tall.

Full sun is fine, but these shrubs seem to do best in part sun to partial shade areas.

This is a moderately cold hardy little shrub, doing best in Zone 10 and warmer areas of Zone 9B. It's considered evergreen though it can lose leaves in a harsh winter (but generally comes back in spring).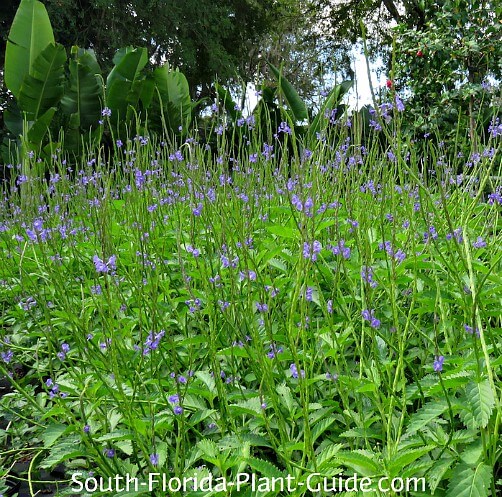 Plant care
Add top soil or organic peat humus to the hole when you plant. You can also add in composted cow manure, as well.

You may want to trim the shrub occasionally to keep it shaped. Cut it back hard in spring (late March or early April) to encourage new growth to keep it full and bushy.

Fertilize in spring, summer, and fall with a good granular fertilizer. You may want to supplement feedings and promote more flowers by applying bone meal and/or liquid fertilizer.

Give these plants a regular watering, but don't keep them overly wet.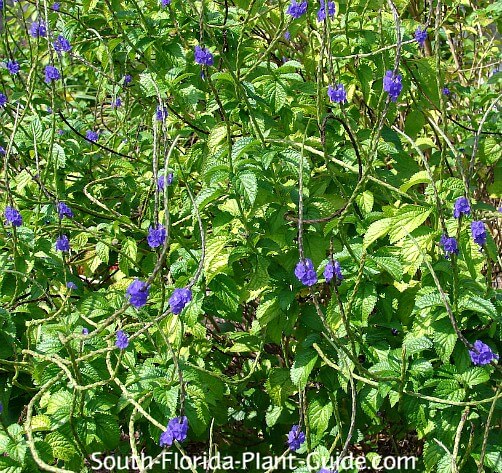 Plant spacing
Place shrubs about 2-1/2 to 3 feet apart. Come away from the house 2-1/2 feet.

If you're planting along a walkway, come in about 3 feet - this plant spreads out as it grows.

These plants will work fine in containers.

---
Landscape uses for blue porterweed
accent for a mixed garden bed
grouped as ground cover shrubs
lining one or both sides of a walkway
informal foundation shrub

surrounding a palm or other taller specimen plant
around a mailbox or lamppost
along a walkway
flanking the entrance to a garden gate
---
Other plants you might like: Cat's Whiskers, Plumbago
---