Your Monthly Grow-zine

November 2016

Things to do in the garden this month...

---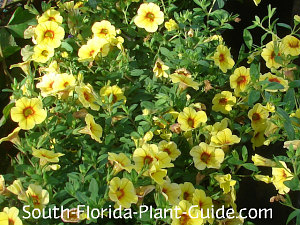 Million Bells
Start shopping for winter annuals. Some annuals like pansies and violas shouldn't be planted till December or January - the coolest weather here - but geraniums, sunpatiens, and many other winter annuals can go in the ground now.
Want something different? Check your nursery for more unusual annuals like the Calibrachoa 'Million Bells' pictured.

Don't forget to water. This is typically a dry time of year and we tend to overlook our plants' water needs since during Rainy Season we rarely have to think about it. Water at least once a week, twice if weather is especially warm.

---
November is a great time to...

Fill in the blanks with a great groundcover!
Sometimes our gardens have "holes" in them...a place where an unsightly plant has been removed or a spot where plants are just too far apart.
Groundcovers don't have to be used to cover a large or long area. Most can be clustered in small groups - or even single plants - to use as fillers.

Good (and controllable) groundcover plants for this include:

Coral creeper
Peperomia
Dwarf chenille
Oyster plant
Dwarf ruella (Mexican Petunia)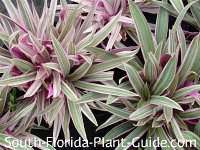 Tricolor oyster plant
You may want to repeat the use of the same groundcover filler plants in other areas to give a cohesive look ("I meant to do that!") to the landscape.

---
After the storm...

If you were hit by Hurricane Matthew, you probably have plant damage. For this or any other strong storm, here are some tips to help your plants survive:
Palms that still have an undamaged top shoot (like the foxtail palm pictured) should recover.
Don't cut off any bent fronds because as they brown and die, they send nutrients and energy to the new growth.
Treat with a systemic fungicide drench to help the palms fight off the stress caused by the storm.

Large leafed plants like white bird of paradise or traveler's palm (pictured) should be trimmed - but just remove the outer shots and leave the center ones, even if they're shredded and bent. They're necessary to absorb sunlight.

Treat with a systemic fungicide drench.

Shrubs damaged by falling tree branches and other debris should be lightly pruned - meaning just cut out the damaged area, leaving as much of the shrub intact as possible.
Treat with a systemic fungicide drench.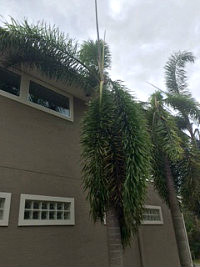 Small trees that have been uprooted should be righted and staked. Trim off any roots that prevent the tree from straightening. Keep the soil around the tree moist.

For more info, read this article.

Don't fertilize damaged plants, and avoid a hard pruning. The fertilizer won't do the plants any good at this point, and hard pruning can cause added stress. The plants may look far from pretty but, hopefully, most will grow out of the damage.

---
What's new at South-Florida-Plant-Guide.com

A visitor to the website contacted me, confused about citrus spraying. I re-read what I've written on the page on How to Grow Citrus, and agreed with her that the instructions about rotating types of sprays were confusing. So I made some adjustments - here they are:
In spring and fall spray with a mixture of liquid copper, 50% malathion, and add a miticide to combat these pests. In summer, spray with neem oil, which is an insecticide-fungicide-miticide all in one.
---
I've added this photo of dwarf papyrus to the Plant Page on Papyrus.
The dwarf only grows a few feet tall.,,and must have plenty of regular water to stay healthy and pretty.

---
... And...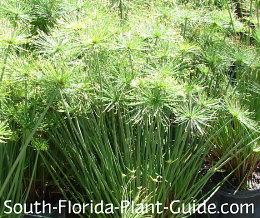 My new ebook is here!
A unique manual about low maintenance plants and landscaping for our subtropical climate - where everything grows and grows!

Are you ready to take a break from non-stop yardwork?
Then this book's for you!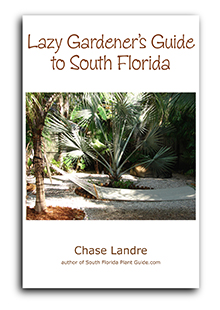 ---
Need a "crash course" in South Florida plants - and how to use them in your yard?

My Column Collections ebooks - 5 books in all - are here and you can buy just one or own the whole set!
These are based on the best of my newspaper garden columns, packed with info about our wonderful and exotic plants and how to use them...including many things not covered at South-Florida-Plant-Guide.com.
---
Are you a Snowbird?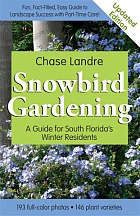 Want to know more about growing a beautiful landscape with only part-time care?
Check out the new, updated edition of my book,
Snowbird Gardening.

I've added more plants, more photos and up-to-date info for South Florida Snowbirds.
This new edition features 146 plant varieties - palms, shrubs, trees and flowers - with photos and information about each one.
NOTE: Shipping rates are now lower! The Post Office keeps raising their rates, so I've found a less expensive way to ship orders of single copies of the book to save you $$ on shipping costs.

---
Thanks for subscribing to the Grow-zine!

If you have any questions, comments or suggestions about what you'd like to see included in the Grow-zine - or the website - please let me know!
Happy Thanksgiving!

Chase Landre