Arizona Cypress Tree

Cuppressus arizonica

The lacy foliage and silvery beauty of the Arizona cypress tree creates eye-catching contrast in a home landscape.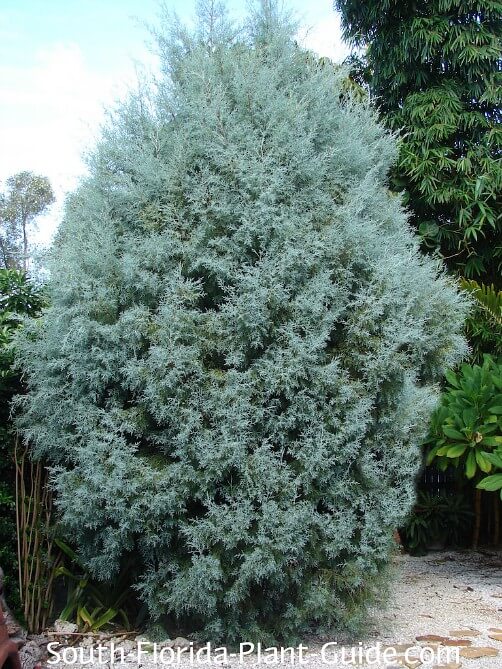 Showy by itself or very effective planted in groups, the tree has a naturally beautiful shape with foliage that stays full to the ground with Christmas tree appeal.

It starts out in life with a more open and airy look to the finely-textured foliage.
As it matures, the tree develops a dense symmetrical form that works well in formal or casual landscapes

Arizona cypress actually prefers hot dry climates...
...well, we have the hot part covered.
Our humidity and rainfall in South Florida may cause these trees to be more short-lived (experts guess about a 20 year lifespan) than those in the Southwestern United States where growing conditions are more ideal.
This is a good replacement tree for Leland Cypress, which has become difficult to maintain in South Florida landscapes because of problems like cypress canker, to which the Arizona cypress is much less susceptible.

This tree is sometimes called Carolina cypress because 'Carolina Sapphire' is the cultivar born on a South Carolina tree farm and most commonly sold in South Florida.

Though it's becoming more well-known, Arizona cypress may be harder to find than the average tree. A nursery should be able to order it for you.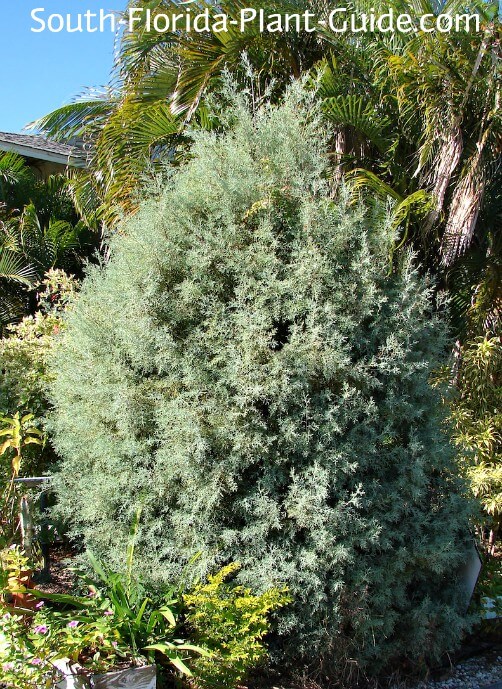 Plant specs
Full sun is best for this evergreen tree.
A well-drained planting location is an absolute must.

A moderate to fast grower, Arizona cypress is cold hardy and grows best in cooler areas - Zone 9B and areas of Zone 10A that border 9B.

It's drought-tolerant once established and grows 30 to 40 feet tall.

Plant care
Add composted cow manure to the hole when you plant.

No trimming is needed. However, if you want to do minor shaping, don't cut across the foliage with electric hedge trimmers...instead, hand prune branches to the desired shape.

Though it can handle dry conditions, Arizona cypress does best with regular irrigation timed so that the soil can dry out between waterings. At least water during dry spells (after the tree is established).

Fertilize 3 times a year - in spring, summer, and autumn - with a quality granular fertilizer.


Plant spacing
Place this tree 10 feet from the house. If planting by a walk or drive, come in at least 8 feet to allow for future growth spread.

For rows of these trees to create a screen, place them 6 to 8 feet apart.

---
Landscape uses for Arizona cypress tree
single yard specimen
tall "hedge"
privacy screen
---
Other trees you might like: Southern Red Cedar, Holly Trees
---