Fiddle Leaf Fig
Ficus lyrata
The aptly-named fiddle leaf fig tree has extraordinary leaves shaped like violins that create a striking look in the landscape.

This tree's glamorous appearance fits right in with South Florida's subtropical plant life.
It's easy to grow and very showy.

Sometimes used in magazine layouts as a container plant, this tree can be cut back hard and kept much smaller than its ultimate size.
This feature makes it a versatile garden or patio addition.
The large, layered leaves and their unusual shape command attention in a landscape. The photo below - taken from the undersides of the leaves -  highlights their unique look.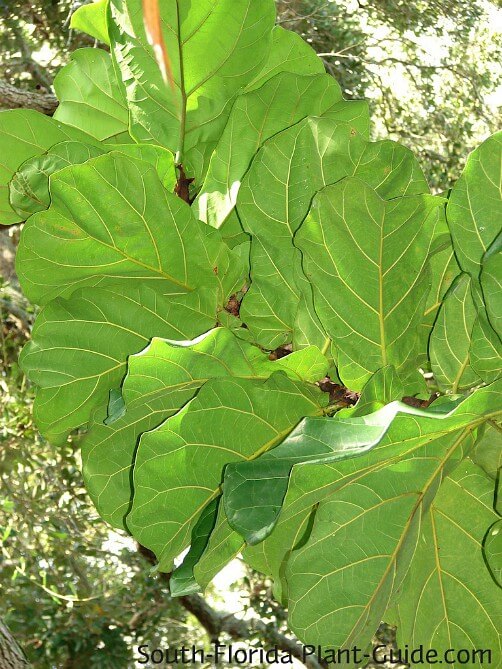 Plant specs
These unusual trees can grow to 40 feet but can be pruned to only 15 feet if you desire.

They are fast growers that prefer part sun to part shade and a well-drained planting area. Although it's a ficus, aerial roots are few. 
Tropical by nature, this fig tree needs the warmth of Zone 10, and does best in Zone 10B and warmer areas of Zone 10A.
However, in Zone 9B you can keep it in a large container to move inside during cold weather.
It's evergreen but if winter is harsh the tree may drop some leaves. It should sprout new growth in spring.

Place in an area out of the path of strong winds.
Plant care
Add top soil or organic peat humus to the hole when you plant. You can also mix in composted cow manure to enrich the soil around the rootball.

Trim as needed to shape and prune hard in spring (late March or early April) for size reduction.

Water on a regular basis but don't keep the area overly wet.

Fertilize 3 times a year - in spring, summer and fall - with a quality granular fertilizer.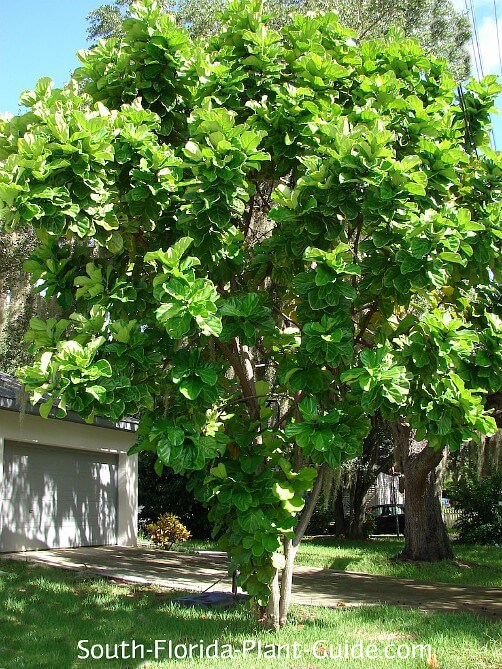 Plant spacing
It's best to come away from the house at least 8 feet (unlike the photo at the top of this page) to keep trimming down to a dull roar.
Place this tree at least 6 feet - more if you can - from a walk or drive to allow for future growth and not be in the way of foot and vehicle traffic.

These trees do fine in pots. If you grow as a containerized tree, cut any roots circling the rootball before planting.

---
Landscape uses for fiddle leaf fig
single yard specimen
small shade tree by the patio
corner of the house accent
anchor for a garden bed
in a container or planter

---
Other trees you might like: Clusia Rosea (Standard), Kopsia

---