Your Monthly Grow-zine

August 2022

Things to do in the garden this month...

Visit your locally-owned nursery for new low-maintenance plants for the garden, such as the beautiful Dioon cycad pictured above. Cycads are an armchair gardener's dream - slow-growing, drought hardy and easy care.
Stake young trees. If we get any tropical storms, young trees can easily be snapped by strong winds and need added stability. Tall palms should also be staked for their first year.
Water two times a week - unless Mother Nature has done it for you. (Gotta love rainy season!)
NOTE: Some areas will only let you water once a week, with stiff fines if you don't comply. Find out what your local regulations are.
Be on the lookout for pest damage. Take cuttings bagged in plastic to your local nursery for diagnosis and treatment recommendations. 

---
Giant Potato Tree
If you love to collect novelty plants, the Giant Potato Tree (Solanum  macranthum or S. wrightii) might be a great addition to your garden.
Why call this a collector's plant?
All parts of the plant contain toxins...and most of the plant has thorns - undersides of leaves, stems and branches. So this is not for everybody!
But it's a beauty of a plant, a big fast grower with flowers that emerge purple, fade to lavender and then white, much like Yesterday Today and Tomorrow. No potatoes, though. (It's a relative.)
The only thing really "giant" are the huge, foot-long leaves. The plant itself can be grown as a shrub if you leave on the bottom branches, or remove them for more of a tree appearance. It can reach up to 15 feet tall and almost as wide if you let it. Cut it back in spring to maintain a size of about 6 to 8 feet or so if you prefer.
This is a fast grower, best in Zone 10 in full to part sun. It needs regular water but won't live in a slow-to-drain area. Fertilize in spring, summer and fall.
Flowers appear on and off all year, more in warmer months, with all bloom colors present at the same time for a showy look. The flowers are said to attract butterflies and pollinator bees.
After flowering you might see seed pods about the size of golf balls. I was once told these plants are considered invasive but I couldn't find any evidence of it like some of its relatives are. However, since the seeds will germinate, avoid planting near a preserve or naturalized area just in case, and remove seed pods from the plant when they appear.
The Giant Potato Tree (AKA Giant Star Potato Tree) is sometimes available from nurseries or you might find it at rare plant sales. Or if a friend has one ask for cuttings since they root easily.
There is a thornless variety, called (appropriately) "Thornless." Your nursery may be able to order it.
---
What's new at South-Florida-Plant-Guide.com
Oops! An astute Grow-zine subscriber visitor pointed out a goof I made.
Last month's Grow-zine included info on palm tree trimming...especially the 9 and 3 rule. I made a mistake on the line that read, 
"If you do cut off fronds, the rule of thumb is to leave fronds on at the points of 9 o'clock and 3 o'clock. Never remove anything below that imaginary horizontal line.
It should have read "...Never remove anything ABOVE that imaginary line."
Sorry for any confusion!
---
---
My latest ebooks are here!


"Best of the Grow-zines"


All the best info and ideas from past issues of our monthly newsletter - The Grow-zine!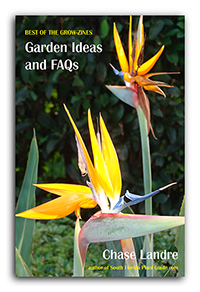 Garden Ideas & FAQs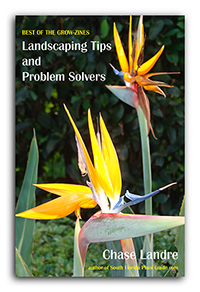 Landscaping Tips & Problem Solvers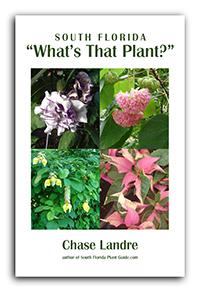 Buy both "Best Of" ebooks & get this one FREE!

---
---
Thanks for subscribing to the Grow-zine!

If you have any questions, comments or suggestions about what you'd like to see included in the Grow-zine - or the website - please let me know!
Chase Landre

---