Royal Palm

Roystonea regia

The huge, gorgeous royal palm tree is thought of by many as the world's most beautiful palm.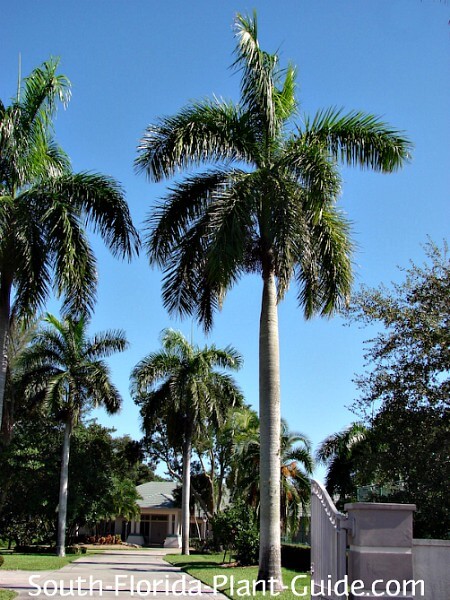 This big beauty is the classic South Florida palm tree and a Florida native.

Smooth trunks of gray to gray-white are topped with bright green crownshafts and long, luxurious, full fronds.
Soaring to heights 80 feet tall, this giant palm tree is one of the most sought-after landscape palms for elegant South Florida homes.
Because of their eventual mammoth size, royals are best used in larger landscapes with bigger houses so they fit the scale of their surroundings.
The fruit this palm produces in fall and winter is a good food source for birds.
Plant specs

A royal palm grows at a moderate speed up to 80 feet. It will take partial shade but is happiest in a full sun location in Zone 10B and warmer areas of 10A.
This is a moderately salt-tolerant palm, and it's moderately drought-tolerant as well, once it's established, though it will benefit from regular watering.
Royals are self-cleaning - dropping old fronds on their own.
Plant care

Plant with top soil or organic peat moss as a soil amendment in the hole.
Fertilize with a good quality granular palm fertilizer containing micronutrients - do this in spring, summer and fall.
The self-cleaning habit means you'll never have to shinny up the trunk of a royal to remove dead fronds.
The mammoth size of the fronds and stems, though, makes a good case for planting well away from the house or any walkways...when a dead frond drops, it sounds like a loud crack of thunder - and then a crash as the heavy frond hits the ground.
Water on a regular basis with enough time between waterings for the palm to dry out a bit.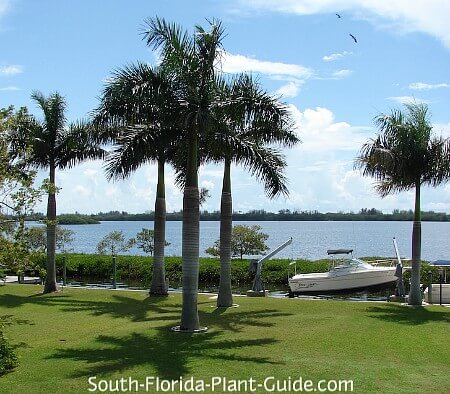 Plant spacing

Plant royals no closer to the house than 8 feet to allow room for the fronds to spread out and not be damaged by touching walls.
You want to come out with enough distance that falling fronds don't damage anything (including people) underneath.
Space these palms 8 to 10 feet apart when planting in a row.
This palm is too big for growing in a container.
---
Landscape uses for royal palm

lining a street, drive or property line
as an architectural accent for a taller house
stand-alone yard specimen
flanking each side of the entrance to a large driveway
---
Other palms you might like: Foxtail Palm, Queen Palm

---