Your Monthly Grow-zine

August 2019

Things to do in the garden this month...

---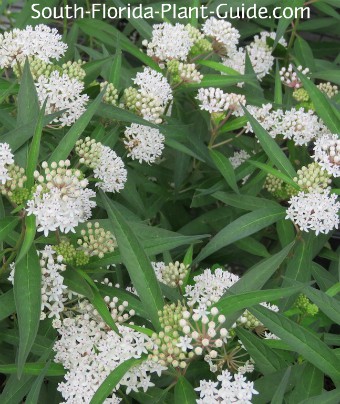 White Milkweed
Add new plants to your garden...like the White Milkweed, a native plant (Asclepias perennis) that loves moist areas.
Also known as a variety of Swamp Milkweed, it can take wet feet or grow it anywhere with regular irrigation.
This plant grows about 1-2 feet, fine anywhere in Florida in sun to part shade.
And the best part? It's a host plant for Monarch, Queen and Soldier butterflies - and attracts other butterflies and honeybees.

White Milkweed may not be as long-lived as typical Milkweed, but it can create a beautiful border for your butterfly garden or highlight an area that stays a bit wet after a rain.

Look for White Milkweed at native plant nurseries, or ask your local nursery to order if not in stock.

For more info on natives, see our page on Native Plants - and for more butterfly plants, see our page on Butterfly Gardening.

Stake young trees. If tropical storms come our way, young trees can easily be snapped by strong winds. Tall palms should also be staked for their first year.

Run your irrigation twice a week if it hasn't rained.

Check for pests. If you see a problem on a plant, take bagged cuttings to your local nursery for diagnosis and treatment options. Don't wait to do this - speedy action can save many plants that otherwise may wither and die without prompt treatment.

---
---
Planting on a berm or slope
Much of South Florida is flat as a pancake. To add visual interest to landscaping, you can build up a bed into a berm.

Or if your yard has a slope to it you may find it hard to maintain turf grass there. Additionally, soil erosion can be a problem.

Best plants to use? Groundcovers like Perennial Peanut or Sunshine Mimosa  - they can help control soil erosion and give you a pretty landscape addition at the same time.
Place these groundcovers along the top of the slope so they'll grow downhill.

If the angle of the slope is somewhat steep, larger plants like shrubs at the top may suffer from having roots exposed if the soil washes away from heavy rains. They may also never get a good drink if the water runs off rather than soaking in.
To help them, create a barrier on the downward sloping side to retain soil and to catch water long enough for the plants to get a good drink. You might use decorative stones or bricks for this.

Perennial Peanut
Another plant that is excellent for controlling erosion is bamboo - though this may not be the right choice for your yard. Plants like this require a commitment since they're almost impossible to remove completely if you change your mind.

---
What's new at South-Florida-Plant-Guide.com

I've added a photo of the dwarf variety to the Plant Page on Snowbush.

Though the dwarf doesn't have the pink coloration of the regular Snowbush, it stays smaller and more compact - easily kept about 2 feet.

---
---
My latest ebooks are here!


"Best of the Grow-zines"


All the best info and ideas from past issues of our monthly newsletter - The Grow-zine!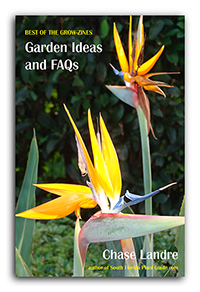 Garden Ideas & FAQs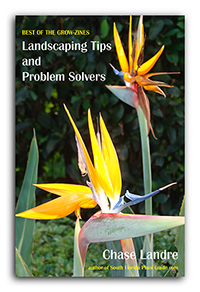 Landscaping Tips & Problem Solvers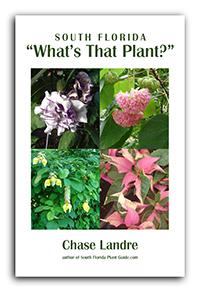 Buy both "Best Of" ebooks & get this one FREE!

---
---
Are you a Snowbird?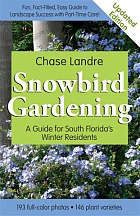 Want to know more about growing a beautiful landscape with only part-time care?
Check out the new, updated edition of my paperback book, Snowbird Gardening.

I've added more plants, more photos and up-to-date info for South Florida Snowbirds.
This new edition features 146 plant varieties - palms, shrubs, trees and flowers - with photos and information about each one.
---
Thanks for subscribing to the Grow-zine!

If you have any questions, comments or suggestions about what you'd like to see included in the Grow-zine - or the website - please let me know!
Chase Landre