Your Monthly Grow-zine

August 2020

Things to do in the garden this month...

Hibiscus
Shop at your locally-owned plant nursery for beautiful additions to your landscape.

Water twice a week if we've had no rain.

Look for pest damage. If you see some, take cuttings and promptly seal them in a plastic bag to take to your local nursery for diagnosis and treatment recommendations.

---
Get the most shade with broad-spreading trees
Tree shapes include upright, oval, columnar, spreading and broad-spreading.
If you have enough space in your yard, a broad-spreading tree can create a large canopy of heat-reducing shade.

Here are some of the best for South Florida yards:

Another benefit of broad-spreading trees - those that are evergreen, that is - is that in winter they act like a blanket, keeping the area below them a few degrees warmer than the outside temps and protecting plants beneath from frost.

---
How to avoid a Pygmy Palm's spines

If you've ever been stabbed by a sharp spine when handling a palm like a Pygmy Date, you learn never to do that again!
Some people even refuse to plant these palms because of the spines, which grow near the base of each branch.

The easiest way to avoid a Pygmy's hurtful spines is to 1) never stick your hand directly into the palm's fronds, and 2) always lift up the fronds sideways with your arm. Do this no closer to the center than halfway. Then you'll be able to see the spines and avoid them.

When buying a Pygmy Date from a nursery, ask them to tie up the fronds with twine. That way you can safely plant the palm without getting stuck because the spines are visible and out of your way.

For pruning off lower fronds, wear gloves and use long handled loppers. If the palm is still fairly small, ask someone to lift the fronds (using his or her arm sideways) to see where to cut.

If you've been stuck with a palm spine, make sure there's no piece of it in the wound, then clean the area with soap and water and apply antibiotic ointment (spines can harbor bacteria from dust and dirt) and a bandage.

---
---
What's new at South-Florida-Plant-Guide.com

A web visitor requested a more obvious notation for each vine - whether twiner or leaner. So I changed the Vines page so that each one listed is identified as to type.

Several visitors to the site have asked what became of the Search Box. I had to remove it when I changed ad providers...but I've now added "Search for a Plant" above the Sitemap in the navigation bar to make it easier for people to realize they can use the Sitemap for search. Every plant on the website is listed there with a link to its Plant Page.

Also, I've added a new testimonial from my friend Jeff Gilchrist of Jeff Gilchrist Landscaping to my About page. Jeff and his clients have allowed me to take photos of his designs (and of his own beautiful property) for use on this site and in my ebooks.

---
---
My latest ebooks are here!


"Best of the Grow-zines"


All the best info and ideas from past issues of our monthly newsletter - The Grow-zine!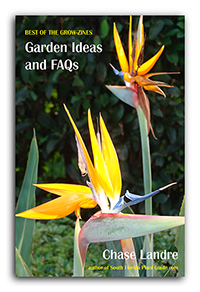 Garden Ideas & FAQs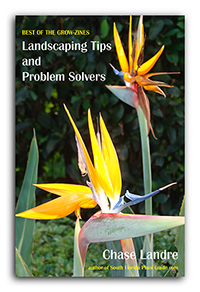 Landscaping Tips & Problem Solvers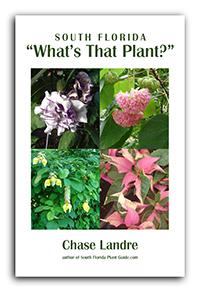 Buy both "Best Of" ebooks & get this one FREE!

---
---
Are you a Snowbird?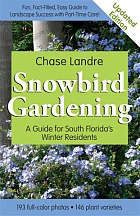 Want to know more about growing a beautiful landscape with only part-time care?
Check out the new, updated edition of my paperback book, Snowbird Gardening.

I've added more plants, more photos and up-to-date info for South Florida Snowbirds.
This new edition features 146 plant varieties - palms, shrubs, trees and flowers - with photos and information about each one.
---
Thanks for subscribing to the Grow-zine!

If you have any questions, comments or suggestions about what you'd like to see included in the Grow-zine - or the website - please let me know!
Chase Landre
---