Your Monthly Grow-zine

December 2018

Things to do in the garden this month...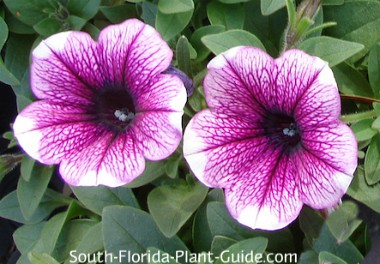 Petunia
It's time to start planting winter annuals!  Geraniums, petunias, and other favorites for winter color are now available at your local nursery. Veggies and herbs, too!

Water once week if we've had no rain. And if a cold snap is forecast, water early in the day to help plants soak up warmth and make it through a cold night.

Inspect your plants for insect damage. If you see some, take bagged cuttngs to your local nursery for diagnosis and treatment options.

---
---
Ornamental Red Banana
Want an unusual and super tropical look for your landscape?

Try a Red Banana (Musca zebrina 'Rojo') - also known as Blood Banana for the deep red markings on its huge leaves.

This is an ornamental banana so you won't get fruit...but what you will get is a stunning plant.

Growing to about 8 feet, it takes sun or shade BUT prefers (and keeps its best color) in partial shade.

Red Banana does best in Zone 10, but if established in Zone 9B it may die back over winter and come back in spring.

It's also an excellent container plant, perfect for a pool cage or partly shaded patio. These plants don't get as large when grown in pots...about 4 feet tall.

Give the plant regular water - and don't keep it overly wet or let it go completely dry. Fertilize during warm weather.

Not usually available through nurseries, your nursery can order it for you, or look for it at rare plant sales.

---
Here's what happens...
,,,when you plant a tree beneath power lines - and the power company trims it!

Instead of trees that can reach power lines, plant standards - shrubs trained to tree form - like hibiscus, jatropha and powderpuff.

They don't reach the height of the lines, and can easily be trimmed nicely - by you!

---
A visitor asks...

"I need evergreen fast-growing non-poisonous shade trees for a horse pasture - what do you recommend?"

I didn't know the answer to your question but after some research it looks like pine trees are good fast growing shade trees for horses. Most sources say their horses love munching the fresh needles and that they're rich in nutrients.

Pines are fast growers, and though they don't spread wide like an oak, you could plant a grouping of them to create a wide shady spot.

Slash Pine is the most common pine for South Florida - see our Plant Page on it.

I'd recommend checking with your vet to see if she/he has any other suggestions or ideas.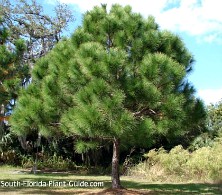 ---
FROM THE GROW-ZINE ARCHIVES

---
Christmas cactus care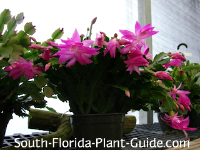 This excellent container plant can last for generations if well cared for.
Christmas cactus (Schlumbergera) is an epiphyte that comes from a high elevation jungle atmosphere. It needs bright indirect light and shelter from too much heat and too much cold. 
Four to six weeks before you want it to bloom, make sure  it gets total darkness at night.
Water regularly but let the plant go dry between waterings. Cut back after flowering, and repot every few years with fresh soil.

---
---
What's new at South-Florida-Plant-Guide.com

---
My latest ebooks are here!


"Best of the Grow-zines"


All the best info and ideas from past issues of our monthly newsletter - The Grow-zine!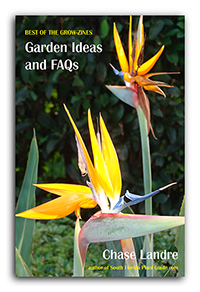 Garden Ideas & FAQs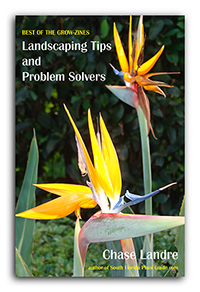 Landscaping Tips & Problem Solvers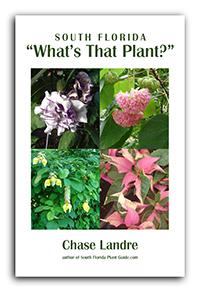 Buy both "Best Of" ebooks & get this one FREE!

---
---
Are you a Snowbird?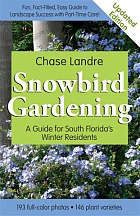 Want to know more about growing a beautiful landscape with only part-time care?
Check out the new, updated edition of my paperback book, Snowbird Gardening.

I've added more plants, more photos and up-to-date info for South Florida Snowbirds.
This new edition features 146 plant varieties - palms, shrubs, trees and flowers - with photos and information about each one.
---
Thanks for subscribing to the Grow-zine!

If you have any questions, comments or suggestions about what you'd like to see included in the Grow-zine - or the website - please let me know!
Merry Christmas!

Chase Landre